The 2012 Cookbook Challenge – at least one recipe from one book, every week, for the whole year!
Click here to see the adventures so far!
Recipe counter: 38
Week 5 – Book 9 – Free Range in the City by Annabel Langbein
I have been a fan for some time now of the Free Range Cook and was very excited when the new book was due out. The Free Range Cook has been a constant go too in my kitchen for some time – easy recipes that always wow the table.
The new book is no different and the recipes are wonderful!
I also had the chance to meet Annabel Langbein for lunch on the launch of the Free Range Cook – read here such a wonderful lady and a complete inspiration!
Great quote from Annabel's new book;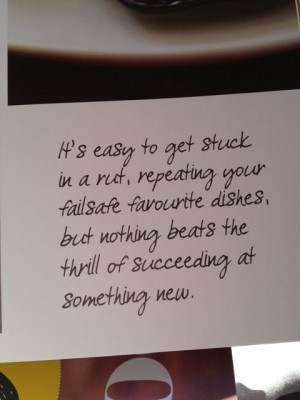 Recipe 9 – Mixed Berry Salad
Super fresh and lovely dessert, very clever twist with the dressing YUM!!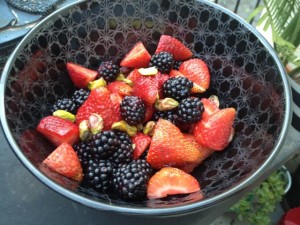 Recipe 8 – Apricot and Ginger Slice
Lots of yummy ingredients and no baking required! Easy! The base was absolutely gorgeous! The icing… fail!! Not sure what went wrong but I ended up with a sugar syrup rather than a lovely thick white snowy topping! BUT it still tasted great and colleagues were heading back for a second slice!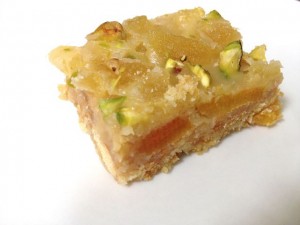 Recipe 7 – Potato and Feta Pie
Amazing! I did tweak a little – shortcrust pastry was already in the freezer and red onions in the pantry rather than spring onions but this recipe absolutely rocked (even with my changes!!) The house smelled divine as it cooked and it was delicious! Carb heavy but totally loved! Another new favourite at work and home!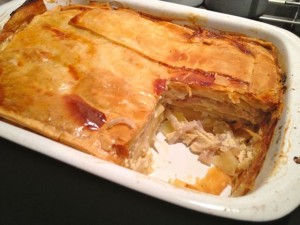 Recipe 6 – The Ultimate Beef Fillet
Really good, hubby wasn't sure with the pomegranite, orange and pine nuts but it seriously works!! It was the ultimate beef fillet – I could have this whipped up for friends everytime and they would be stunned!!!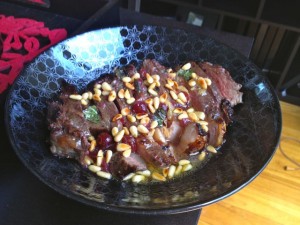 Recipe 5 – Olive Oil Mash
Yummo!! Perfect mashed potato and with a little something extra to make it extra yummo!!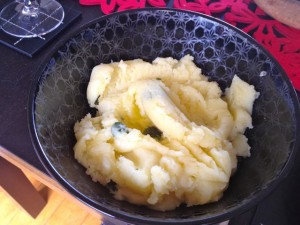 Recipe 4 – Scallops with lemon caper butter
I love the decadence of scallops on their shells for a late Sunday afternoon lunch, the recipe for lemon caper butter was something I wasn't completely sure about but I trust the Free Range Cook! And I wasn't wrong too – just fabulous!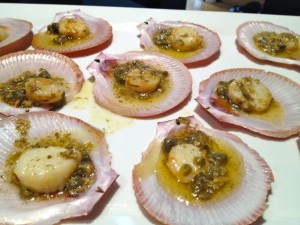 Recipe 3 – Soft Poached egg with mushrooms
I have always loved mushrooms on toast but this is the Maserati of Mushrooms! Cooked through with some gorgeous friends to really bring out the flavour and then served with a poached egg – yum!!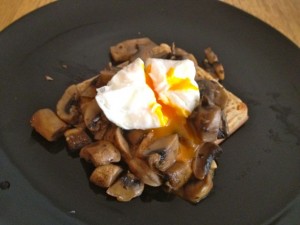 I used my failsafe egg poaching technique – grab a little bowl, pull a reasonable piece of cling film and lay within, apply a little spray oil and then gently crack the egg into it. Gather up the cling film to form a little pocket and squeeze down to get rid of the air and then tie the film into a knot! Then lower gently into boiling pan of water for exactly 3 mins and then pop into a colander to cool and then hold over desired landing point and cut open with scissors – perfectly poached egg should just slide out!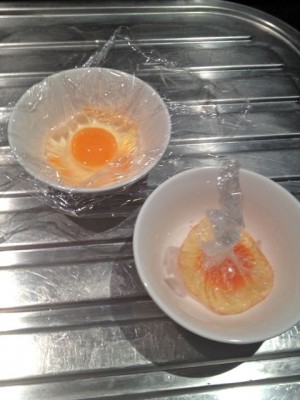 Recipe 2 – Tuscan Meatballs
Amazing Meatballs – AMAZIBALLS!!!! Juicy, full of flavour – so delicious and baked in the oven in a rich tomato sauce – perfection!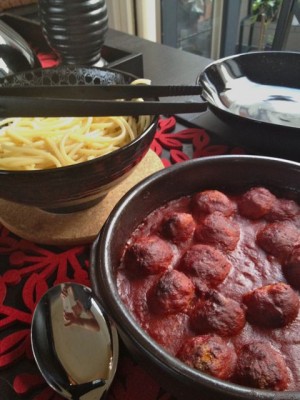 So good hubby finished off the left overs in a roll for supper!!
Recipe 1 – Thai Style Tofu Fried Brown Rice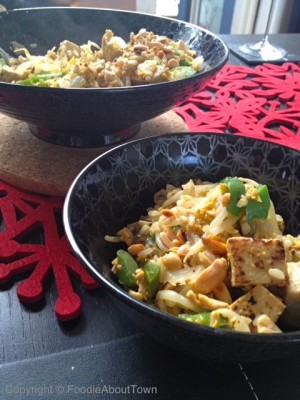 Monday night cooking – new fave! Super easy, packed with flavour! Looks stunning and tastes just as good!
I think Annabel scored me a few points with Hubby tonight, "I should stop but I can't, this is exceptional"!!!
I even garnished with a touch of balcony grown coriander- my first harvest!! I can't wait for the rest of the week!