Quite possibly one of the best places I have been this year!
I loved this place, the space was cool and funky and open and lots of personality and … just brilliant!!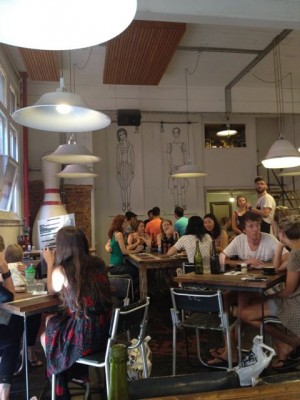 The menu is funny! It is also packed full of amazing food but it is also funny! A big plastic board with everything on labelmaker strips! Enjoy the chai latte – Carma Sutra! Coco pops with milk, plenty of bagel action and a note not to leave the kids in the car!
It is a bagel lovers haven, bagels with all sorts of fillings! But first lets talk coffee.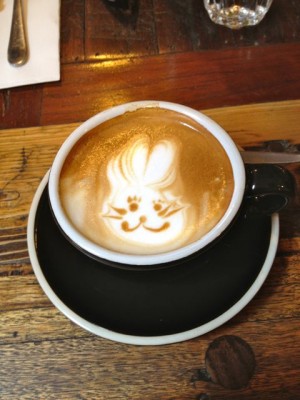 Are these the cleverest baristas in the world? I don't know how hard coffee 'art' is but this looks pretty impressive!! These guys are taking time to delight with coffee and it works, we can't wait to order another one!!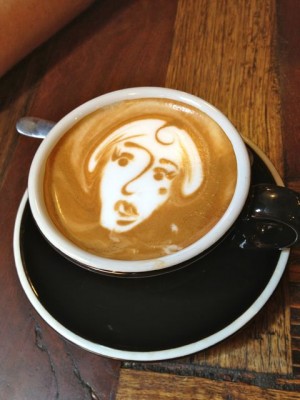 The vibe is great, the staff are gorgeous and it is almost perfect except for the dreaded new parents and their parents who join us at the communal table – ahh the joy of stressed parents and their screaming child! I swear the face in my coffee turned into the 'Scream'!!
Oh well nothing, not even said screaming and squealing child, can ruin the Joy of Bagel!
A wholegrain bagel with pastrami, cream cheese and pickle!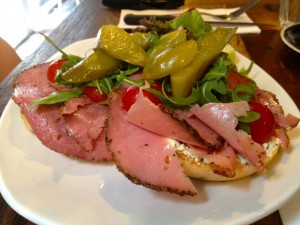 The BEST pickle, the BEST pastrami, the BEST bagel ever – this is absolutely divine, I love, love, love – and that wasn't even mine!!
The soft boiled egg, poppy seed bagel and avocado…….. how cute!??!?!?!?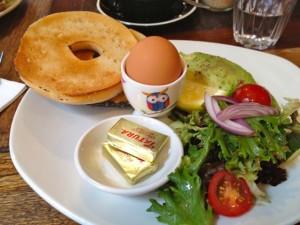 The most PERFECTLY cooked soft boiled egg, crack the top off and we are oozing yolk onto a lightly toasted bagel, little butter, little lemon squeezed avocado…. OMGGGGGGG!!! So cute, so gorgeous, so amazing!! Maybe if they bought screamy one he would calm down a bit!!
This place is one of those super secret laneway spots that I may get a few death threats sent for sharing with everyone but it is THE BEST!! Leave the kids at home, grab your paper and sit back to enjoy a superb and entertaining coffee and the Joy of Bagel!!