Week 1 of The 2012 Cookbook Challenge – at least one recipe from one book, every week, for the whole year!
First week, first book – The Best of Bill from the lovely Bill Granger!
Recipe counter: 9
Recipe 9 – Butterflied Lamb with Romesco Sauce and Virgin Paella
Fantastic!! Lamb could have done with a bit longer but the Romesco sauce tasted really lovely, the almonds and red wine vinegar gave it a smooth creaminess with a real bite!
The Virgin Paella was brilliant! Really easy and though there was no butter or cream it had a real lusciousness and creaminess – must have been the gorgeous expensive paella rice my friend bought me!!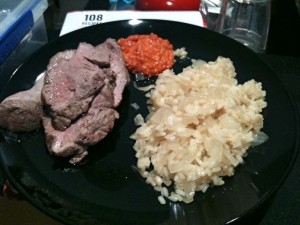 Recipe 8 – Almond and Raspberry Slice
WOW amazing! This is such a gorgeous 'slice'! The recipe was really easy for a lazy Sunday afternoon, few stages to cook and cool! I am also completely converted to Vanilla Extract rather than cheap old essence! The house smelt of gorgeous vanilla biscuits all afternoon!
Stunning!!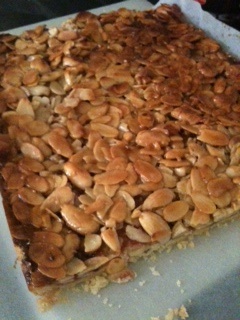 Recipe 7 – Ham and Gruyere French Toast
I love French toast – or Eggy Bread as I know it!! And I love Ham and Cheese toasties… put the two together and you get…
Bill's Ham and Gruyere French Toast! Again simple, easy and ingredients you would always have around. Ok two admissions – 1) I used light cheddar 2) I used two slices of bread rather than cutting a pocket into a very thick slice!! But cooking has to be about flexibility and adapting sometimes!
Regardless of my straying from the recipe – this ROCKS!! It was fantastic, the extra time in the oven ensured that we had super gooey mustardy cheese and the crispyness of the eggy jacket was perfect! My favourite recipe so far from this book!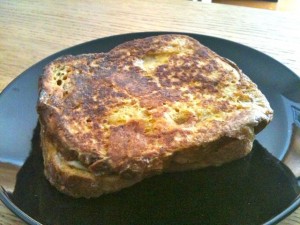 Recipe 6 – Coconut Rice pudding with caramalised pineapple
Epic Fail! Not Bill's fault! I improvised a little on ingredients and didn't have the pineapple! Mine ended up a bit dry and it tasted nice enough but not the luscious velvety looking version in the book! Preparation and planning makes sure you have all the right ingredients!!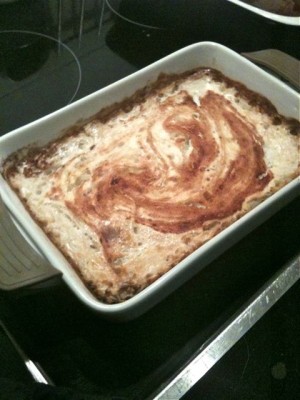 Recipe 5 – Baked Risotto with zucchini, tomato and parmesan
Sceptical on whether an oven baked risotto would work, it was amazing!! It was probably a little more stodgy than the usual lovingly made high maintenance but for a lazy night it was damn good! Tasty and easy! Brown your onions and get everything in on the hob and then in the oven for 30 minutes and tarrrr darrrr dinner!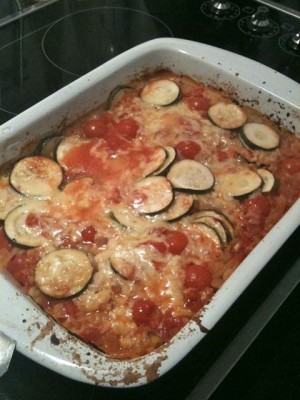 Recipe 4 – Light Laksa
After a tough night of building flat pack furniture you need to call for pizza or cook something super yummy and fast! This recipe was great! Red Curry paste and Coconut milk plus a few other cupboard staples and you have a warming, spicy, fragrant dinner. I chucked the vermicelli in at the end and it was a bowl of lovely soupy fun!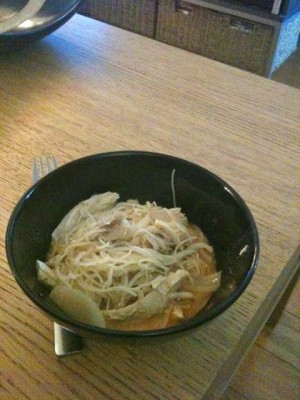 Recipe 3 – Chickpea, burghul and parsley salad with marinated lamb
Little marinading and chilling but nothing too strenuous! I think it was my first foray into burghul and much simpler than I thought! The lamb was lovely and succulent with a mild spice from the garam masala. Lots of lovely parsley, I channelled a little Nigella with my scissors and pot of herb… it was like a herb haircut!! Great summer dish YUM!!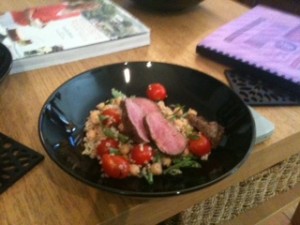 Recipe 2 – Vietnamese Chicken Salad
It's a 40 degree day so nothing to do but to hide inside and cook! Refreshing Chicken Salad at the ready! Had to improvise a little from the recipe – too hot to cook the chicken so bought a roast chicken instead! No chinese cabbage or beansprouts so shredded some regular cabbage! The dressing is amazing!!
Not quite a pretty as Bill's but really tasty with a beer on a hot, hot day!!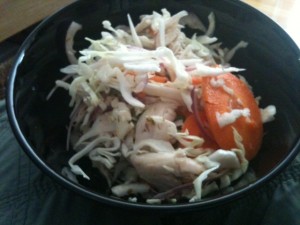 Recipe 1 – Buttermilk Pancakes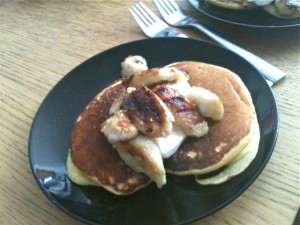 Fantastic! Really easy, storage cupboard ingredients so you can have pancakes anytime!
Everything beaten together and into the pan! Burnt the first ones as I was worried about them cooking through but trust in Bill!
Bill's are with lovely caramelized plums but I had bananas to use up so griddled bananas and yoghurt – Yum!!
The pancakes are super fluffy! Success!