This image says it all! St Ali is FUN! It's an open space full of happy people enjoying great coffee and amazing food! And the staff are gorgeous!
I remember when I first tried to track down St Ali, a mystical coffee haunt that was only open during the week, on a lovely sunny day off we walked around the back of Coles like numpties! When we finally realised where we needed to be and we saw the saintly St Ali figure above the door we knew we had reached coffee heaven!
Then it was open weekends, then it was open for dinner and we have been 'St-Ali-ers' ever since! A dinner at St Ali was the first place I tweeted about what I was eating, the intrepid steps into food blogging!
Today is breakie, there isn't too much of a wait and the captain on the door is running the ship with military precision, name down, menu in hand and within minutes we are settled at one of the communal tables. Coffee order in and I am entranced by the goings on!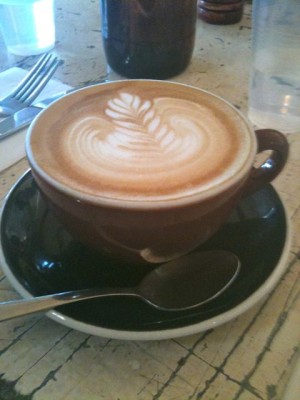 Original since 1999 St Ali are masters of coffee, with beans from Costa Rica, Honduras and Panama to name a few! (you can order beans online too!) we are enjoying a smooth, soothing brew and still completely absorbed by the plates sailing past ladened with amazing looking food.
Hubby orders the Number 12 'bada bing bada boom' Chuckling away to himself!! Great name and amazing sausage! The 'special house made roll with spicy sausage, avocado feta mash and chefs chilli jam' is AMAZING!!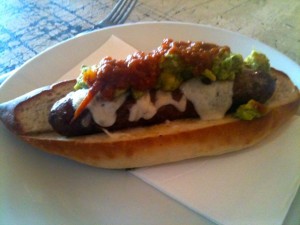 The Chef's chilli jam is rich and lightly spicy and hubby is very happy tucking in as he sings the praises of the delicious sausage and perfect friends on the plate.
I have gone for the 'Deconstructed NYC bagel – house cured sake salmon on toasted bagel with avocado and fetta mash and horseradish cream cheese'. It is the best breakfast I have had in a long time! Each element of the dish is wonderful!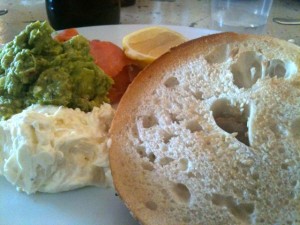 The sake cured salmon is light and with a splash of lemon it is lively and thoroughly enjoyable – I have always kept trying with Salmon – I struggled with all forms for years and have recently started to find my feet… or fins! THIS would have converted me years ago!
The avocado and fetta mash is rich, creamy, luscious and zingy! The Horseradish cream is genius! I adore horseradish and I love cream cheese – together they are amazing. I am totally stealing that one for breakies at home!!
Tear off a piece of bagel and load it with the above and you have the most amazing flavours all working together to deliver the biggest smiles!
Happy times, see you soon
xxxx