Always good to see an old favourite back open and looking better than ever!
The Bridge is back and it is Beaut!
We dropped by for lunch and were really impressed with the fit out, the central 'laneway' is really cool and the restaurant off to the right is several segments each with their own personalities. The big, white wood, circle booths were tempting but there were only three of us and we couldn't justify taking one! Walking through there are then more tables and booths and pheasants in the partitions and butterflies on the walls! I loved the upholstery… I know we are there for food but they have really covered off these details beautifully!
The menu is a good mix of sharing plates, salads, bar meals and mains. Choose from calamari, tuna salad, eggplant parmagiana or porterhouse.
I was all set for the parmagiana when we were told the chicken parmi and the porterhouse were on special for lunch at $13! Show me the meat!!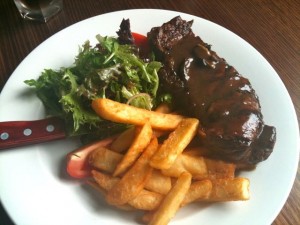 The steak was cooked perfectly throughout, a good quality piece with some nice charring and great flavour. You can choose from mushroom, peppercorn or garlic butter sauce, the mushroom sauce is rich and compliments my gorgeous steak perfectly.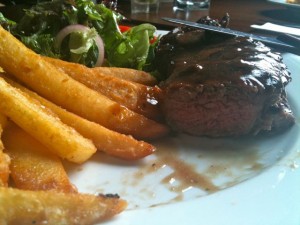 The beer battered chips are YUM! Crispy coating, soft interior and a winner! I can imagine a big bowl would go down well on a night after work with a few beers!
The salad is good, nice, fresh, well dressed – everything it should be and where so many places fall down – not here!
Tick, tick, tick – The Bridge Hotel ticked all my boxes!