I think Izakaya Den was one of my first posts on Instagram, terrible pictures in the dark den and many years ago now and yet I still order the same dishes when we go! The menu is substantial but who can resist corn and / or chcien kara-age!
The menu is divided up so that you can graze through dishes, smaller dishes include grilled broad beans, Pickles 'moriawase', Yuzukosho miso Daikon – but really it's about the deep fried crispy joyous-ness!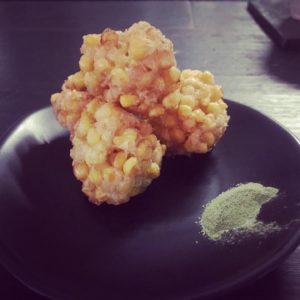 Sweet corn 'kaki-age' – I am the girl who goes straight for sweetcorn fritters on any menu, I love corn in all forms and in kara-age it doesn't disappoint, though they are always nuclear hot and I have no patience to wait so always burn my mouth! Served with a green tea salt they are heavenly balls indeed!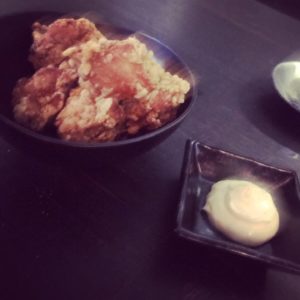 Den fried chicken served as an 8 or 12 piece not in a bucket! To be honest I could do with a 4 piece option as they are pretty big and I want to eat lots of other delicious Japanese dishes!
The chargrill is exceptionally well done and the vents work overtime to make sure the den isn't filled with smoke and cooking smells, the grill features some odd, wacky or unexpected dishes such as the ISTRA smoked Kransky or the Ox Tongue. We went the Hervey Bay scallops with nori and anchovy garlic butter – amazing!! Big, fat, perfectly cooked scallops and best friends with that fishy butter!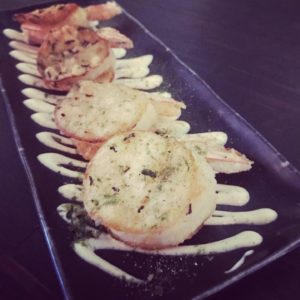 The 'Cold' section is a mouthwatering list of Spicy tuna tataki, Hiramasa kingfish sashimi, Tasmanian salmon sashimi, yuzu vinaigrette, Broccoli with king brown mushroom and Smoked eggplant with ginger. 'Hot' is much the same, but warmer! Pork belly 'shoga-yaki' with ginger, house made kimchi, Baked kipfler potatoes with cod roe sour cream, Hot pot rice with seasonal vegetables, mushrooms and 'Fantastic Queensland prawns' with yuzu mayonnaise – well you can't not have something described as 'fantastic'!! And they were! Big boys, cooked to perfection and yuzu mayo on everything from now on!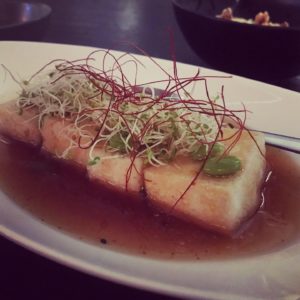 'Vegetables' include Green tea soba noodles salad, Crisp brussels sprouts with balsamic soy, Green leaf salad with pine nut dressing and fabulous Agedashi Tofu with edamame, shichimi chilli – just sensational….. hmmm I could eat it right now!!
It's always a pleasure, play the game to get a seat as there are no bookings but you can always sake it up in the bar whilst you wait for your table.
Itadakimasu, is a phrase that comes from the Japanese verb itadaku, which is a humble way of saying "to eat and to receive" – I think it sums up Izakaya Den perfectly J