I'm officially in LOVE!! Pepe's has brought a new sense of wonder to the old Trunk Diner spot and everything from the food, wine, decor and service is hitting it out of the ball park.
I'll be honest, we dropped in not expecting much, it was just in the right spot of town but I honestly can't wait to go back! The menu is modern Italian and there is just too much damn choice for a foodie like me! There is plenty of salumi and antipasto, arancini, crude and carpaccio but I had to try the casino clams, they sounded like something from Vegas and I am all in!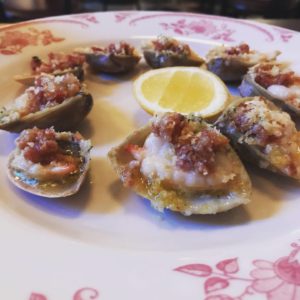 Diamond Clams with Guanciale, (that's piggy cheek between you and me!) lashings of garlic butter and texture brought with the pangrattato AWESOME!!! Seriously could eat plate after plate of these garlic beauties – not sure the guys sat next to us at the comedy event afterwards agreed!!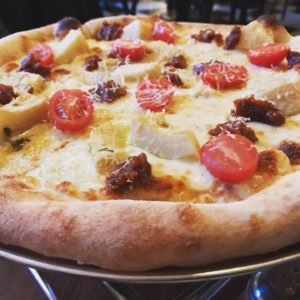 Hmmm pizza, if you are going to cheat on your new gluten free regime then this is the place to do it, pizzas are crusty, thin and just the right amount of topping. Pick from Meatballs, Ortolana, Pepperoni, Grandma Ham, good old Margherita and the Nduja Sausage – my latest addiction.
With glistening lumps of spicy nduja sausage, roma tomato, artichoke, parmesan and Fior Di Latte – A perfect slice of heaven!
Pasta options are tantalising with vongole, funghi fettuccine, spicy vodka rigatoni and baked gnocchi – all very worthy of my table but there is a whole other section to also choose from and the tummy can only take so much!
The bigger plates aren't usually where I go but seeing what was running to other tables had me debating with the fab guy looking after us as to what direction we should finish on!
You can enjoy Veal Parmigiana, Steak Béarnaise, Roast chicken, 12 hr lamb shoulder, fish of the day or Pork ribs. Steak Béarnaise or Lamb Shoulder?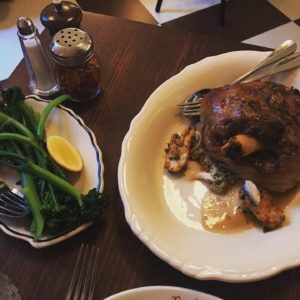 Oh yes! The 12 hr Lamb all Romana with Artichoke, Herb Dressing, and Anchovies – absolute bliss, meat that just fell away from the bone, drooling right now!!
It was a great meal, the bill wasn't a shocker and we left all smiles and a slight whiff of garlic!! It's got to be in our Top Ten of faves 🙂
Grab a peak at the full menu here