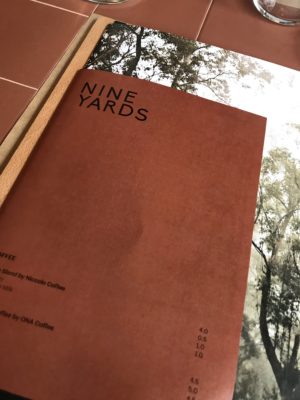 New kid on the block Nine Yards has them queuing out the door in South Melbourne. Everyone likes something new and we already love queuing at St Ali and Chez Dre!! But it's a little bit different here, the investment in the fit out is substantial, maybe I've been watching too many interior design shows but there is a natural calm with the layout and colour scheme and the wooden hidden lights roof is impressive, so are the super fancy toilets!!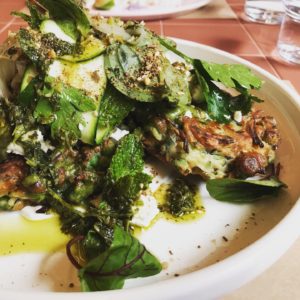 Then theres the menu, yes, you will find your eggs on toast and avocado a plenty but it's all with a Aussie home grown twist.  Even the toast is a Wattle Seed and Thyme Damper with  Bush Honey and Butter, yum!!
its s pretty big menu and there are a lot of elements to the dishes, but the prices aren't hiked up based on the extra effort that's gone in.  If you get 'The Wild Muesli' with Vanilla Bean Yoghurt Panna cotta, Seasonal Berries, Freeze Dried Fruits, Honey Labna
and Strawberry Gum Syrup it's only $6 bargain!!
There is a House Made Kombucha Soaked Coconut and Oat Bircher with Date Labna, Grated Apple, Seasonal Berries, Kakadu Plum and Macadamia Granola with Strawberry Gum Syrup
'Aussie (French) Toast' with Wattle Seed Sugar, Milo Mascarpone, Anzac Crumble, Macadamia, Fresh
Banana, Maple, Torched Marshmallows ave Pistachio is pretty epic and your avo on toast? Got it covered on Quinoa Toast with Goat's Cheese, Zucchini Herb Salad, Seeds, Nuts and Lemon Myrtle Ockkah
The Zucchini and Pea Fritters with Lemon Myrtle Labna, Goat's Cheese, Macadamia Pesto, Pickled Fennel and Herb Salad, Poached Egg and Pepper Berry Salt was quite beautiful, I accidentally dropped a labna covered fritter in the pile of pepper berry salt on the plate which wasn't great but the fritters were great and I loved the herb salad.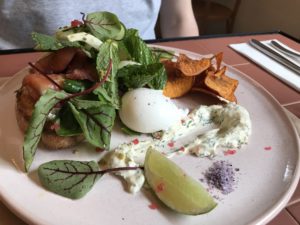 Hubby went the Native Spiced Tasmania Salmon Gravlax with Sourdough, Dill Crème Fraiche, Zucchini, Fennel and Caper Herb Salad, Finger Lime, Sweet Potato Crisps and Poached Eggs – again a beautiful plate and went down well, lots going on!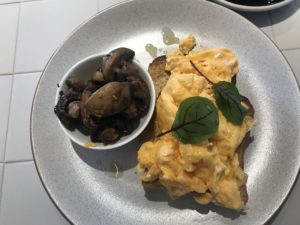 We popped back again that week to do a test of the eggs, always a sign of a great breakie spot. Couple of coffees to go with, hubbies was a bit cold. I had scrambled eggs on gluten free toast with a side of mushrooms, the mushrooms were full of flavour but the eggs were a bit bland – not my favourite.
I love what the guys are doing here and can see a Fried Chicken Burger on Brioche with Purple Cabbage and Carrot Slaw, Mayo, Pickled Cucumber, Jack Cheese and Avocado and House Made Potato Crisps in my near future!