It's a great spot on Swan Street to catch up on a sunny Work day, quick lunch with some good food makes Thursday even better. The menu is pretty big, good gluten free options. Staff were super friendly and helped guide the menu though we still over ordered!!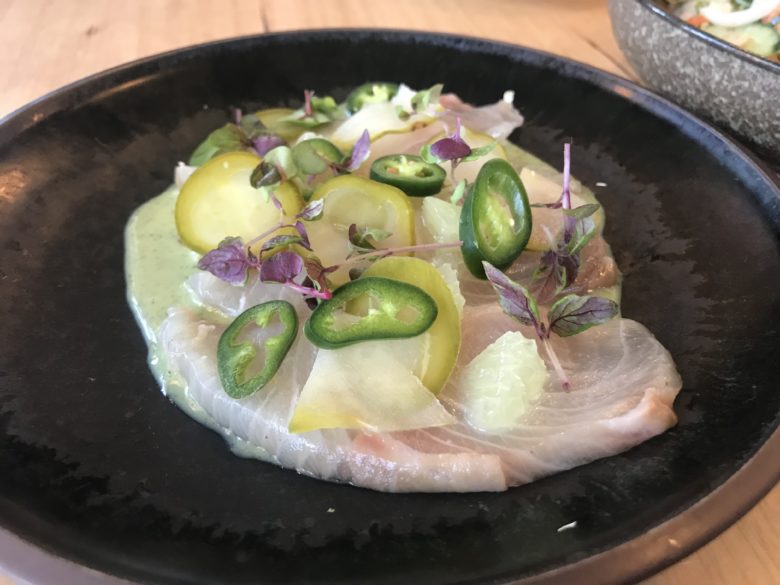 MENU PART 1 – SNACKS & SMALLS

Think epic little bites like pork crackling with grilled eggplant tamarind relish, char-grilled king prawns with kaffir lime, lemongrass bbq sauce or betel leaf with mushroom, tofu and pomelo. The kingfish ceviche with hog plum and green chilli was a beautiful dish, light and packed full of flavor.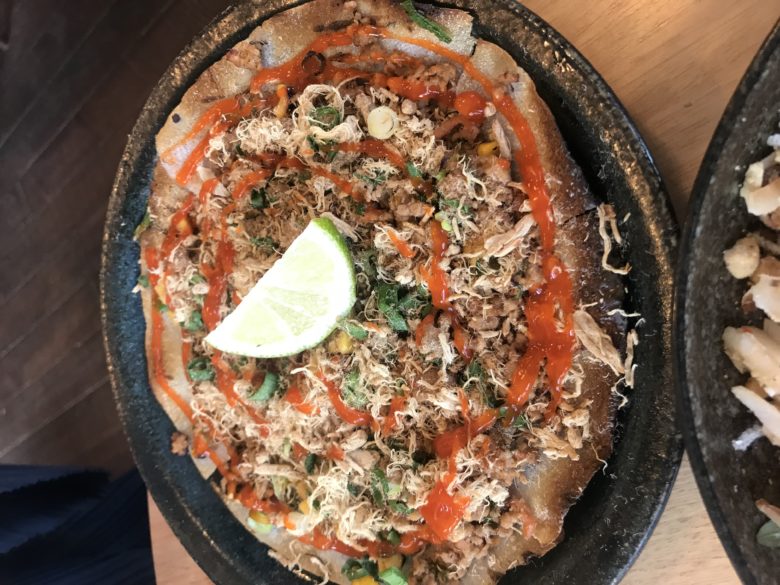 The salt + pepper calamari with chilli +land kaffir lime salt spunded great but the banh trang nuong caught our eye as something we hadn't had before – grilled rice paper, charred corn, dried shrimp,sticky pork and chilli sauce, it was almost like a pizza though lacking the doughs integrity!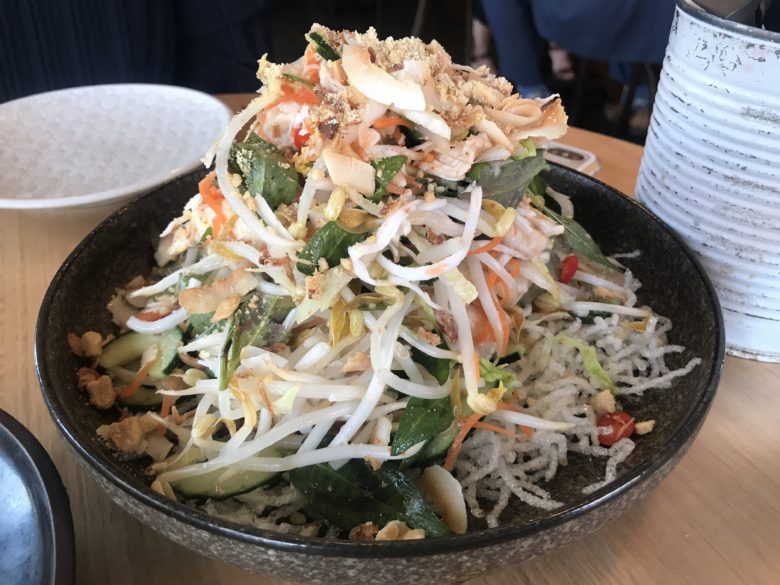 Salads all sound great – our coconut poached chicken with wombok, hot mint and toasted coconut was a winner and a generous portion. I could have smashed any other others with lemongrass beef salad with betel leaves, celery, roasted rice, peanuts and banh uot noodles. Or crispy tofu salad with tamarind, tomato with sesame.

MENU PART 2 – SEAFOOD AND MEAT
So many great sounding dishes – how do you choose between bbq chicken with charred green chilli and lemongras or pork hock with caramelised tamarind pork hock, pineapple, peanut satay and fresh herbs. Braised beef short rib with sticky nuoc mam and sawtooth coriander or sizzling wagyu steak with pepper sauce and garlic butter or the steamed whole fish with soy, spring onions and ginger Game on!!
MENU PART 3 – SIDES
Should always order some sides! Choose between bbq corn, shredded papaya, peanuts, garlic, lime + chilli, stir fried morning glory with lemongrass + chilli sate or chinese doughnut HOW did I miss that one?!
MENU PART 4 – RICE AND NOODLES
Wait there's more! Get your chops around the aromatic yellow curry with sweet potato, cauliflower and baby corn or hot and sour eggplant claypot with mushroom and black pepper, sticky pork vermicelli with grilled pineapple, pork crackling and cucumber or lemongrass chicken vermicelli.
You'll need a few trips to be able to sample all of those lovely sounding dishes! It's an easy choice on any day!