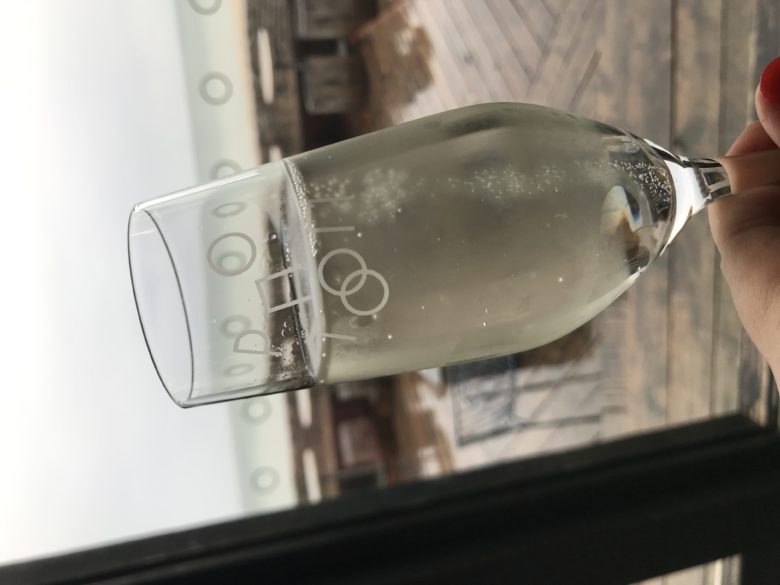 Well first thing, the restaurant is called Pontoon – lets get that right! (I can hear Gordon in my head) I made a slight faux pas, not realising downstairs at The Stokehouse was infact a very separate entity these days. After a short run up (all those) stairs to let them know I was a fool we settled in at the no table service area, it's split out to what suits or what is available.
Another thing you can't control – the weather but even when it's windy and rainy the St Kilda beachfront still looks okay and there is still a good vibe in Pontoon. Menu time, it's a good size, apparently changes cuisine styles periodically which would make sense as it was Italian last time we came but now it's Spanish Olé!
Start off with almendras – lightly smoked & roasted almonds, paprika salt or gilda – olasagasti anchovy, green olive and guindilla skewer – Amazing!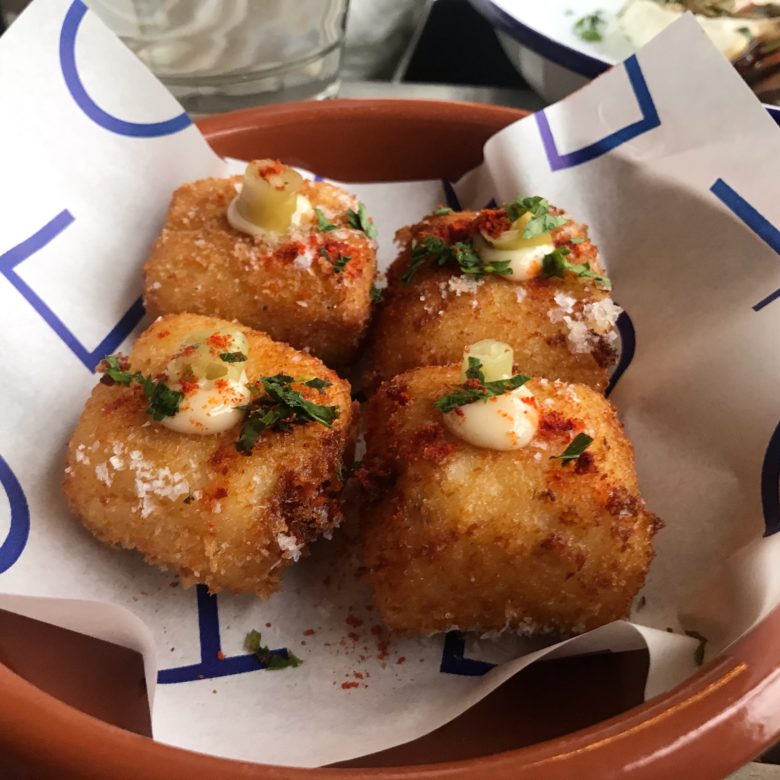 Patatas bravas look fabulous and the jamon croquettes with confit garlic aioli and parsley were absolutely as good as they looked…. Hmmmm could just eat those now!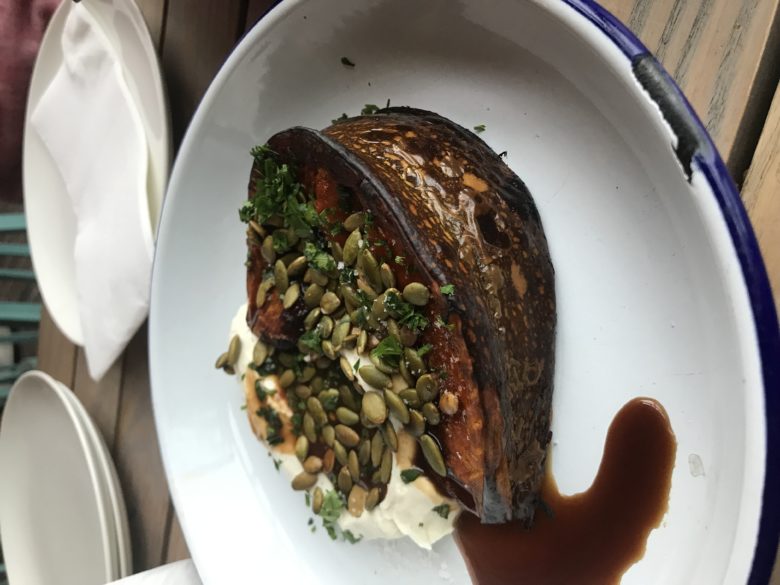 The second part of the menu us 'Del huerto a la mesa' (from the farm) Delicious veggies including charred leeks with romesco sauce, smoked or borlotti bean salad with celery, charred sprouts, cucumber and salsa verde. The charred pumpkin with toasted pumpkin seeds, labneh and molasses dressing epic, buttery soft with the perfect friends on the plate – Sexy Veggies time!! And the Cos salad with green and red capsicum, padron pepper dressing and grated manchego cheese made sad old lettuce ZING!!
The third part of the menu is 'El fuego de pontoon' (the fire) where we get serious about our proteins with charred market fish with escabeche and parsley, 'cordero' the slow-cooked half lamb shoulder, ajo blanco sauce and fried garlic (for you and a few friends!) The 'txuleta' also sounds damn good – a 650gram grass-fed ribeye (dry aged in-house), cooked over coal to your liking and served with mustard, sweet grilled peppers and leaf salad at $75 it's at the pricy end but it is a sharer.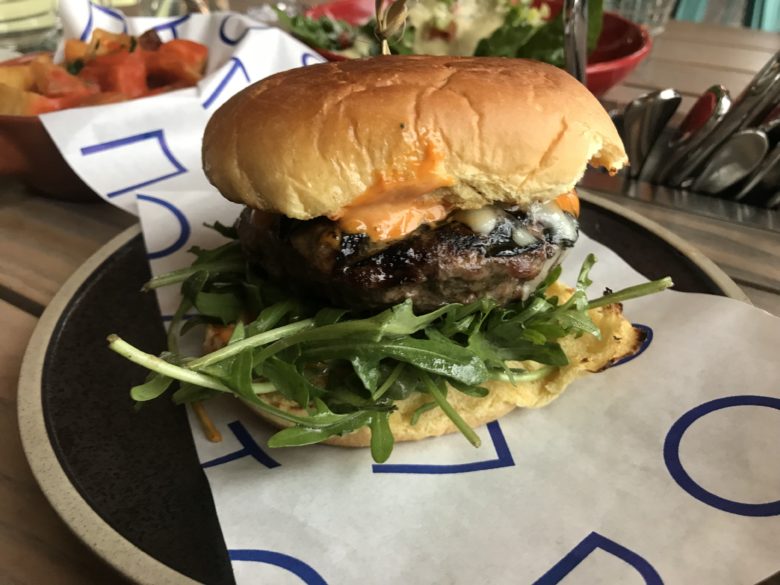 La burger canalla with 180gram cape grim grass-fed burger served with manchego cheese, rocket, smoked paprika aioli, guindillas, brioche bun. Looks great but is relatively small for $19 and you are welcome to add patatas bravas for another $6! Hubby did the shrug face when asked if ok…. He was probably still hungry!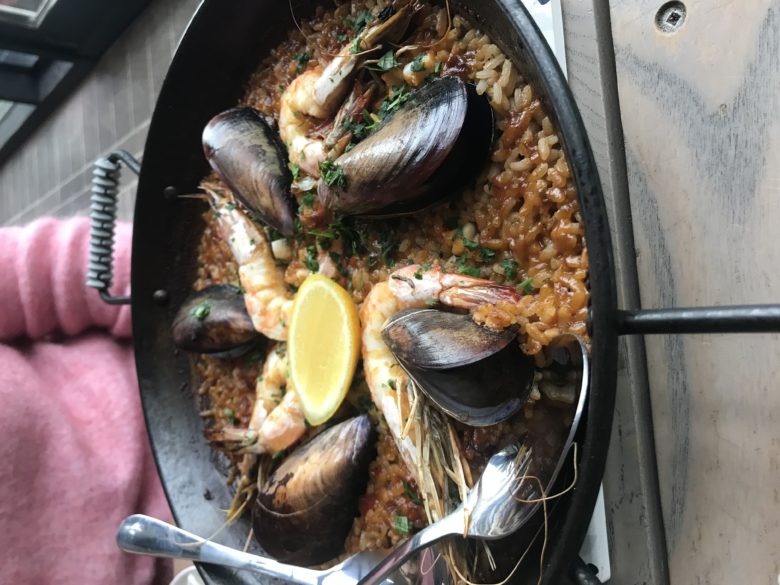 The 'Paella de marisc' described as a traditional seafood paella with mussels, prawns and squid comes in a small at $38 or large at $72, our friend had the small and thoroughly enjoyed it but was missing the additional chorizo or chicken etc.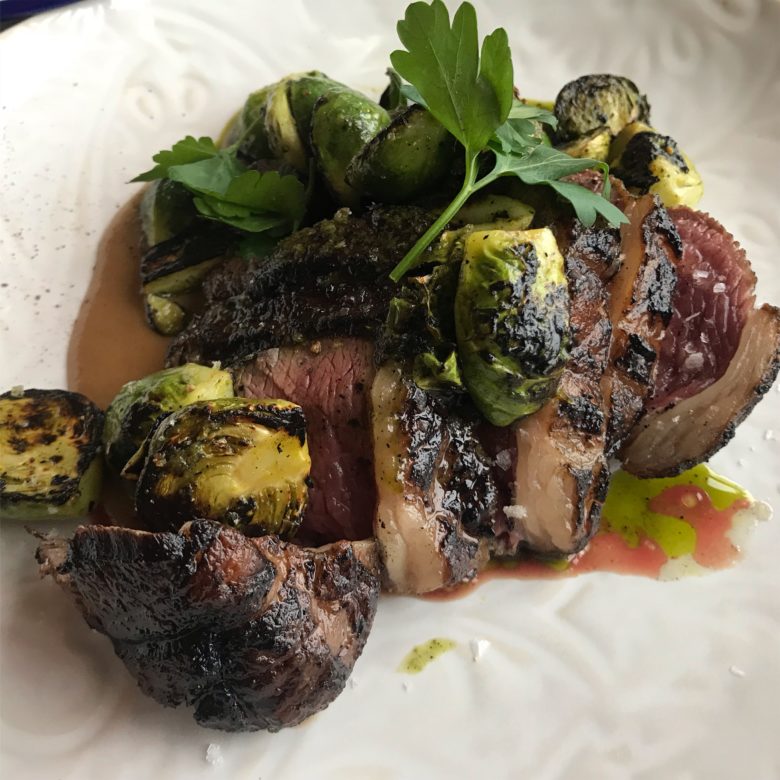 I had the 'Corte de carnicero' or the butcher's cut of the day – it sounded beautiful gorgeous meaty loveliness with brussel sprouts but unfortunately it turned up way rarer than the medium rare or rare I would normally happily eat, chewy and raw in parts it was a massive let down, I hate complaining but I got hubby to try it and he was chewing away unhappily so I did the thing I so rarely do – I took it back. The team were great about it, handled it perfectly and bought we another dish super quick but it still wasn't great. Disappointing but edible. They were nice enough to shout a round of drinks and not make me feel uncomfortable so we won't let it ruin the day.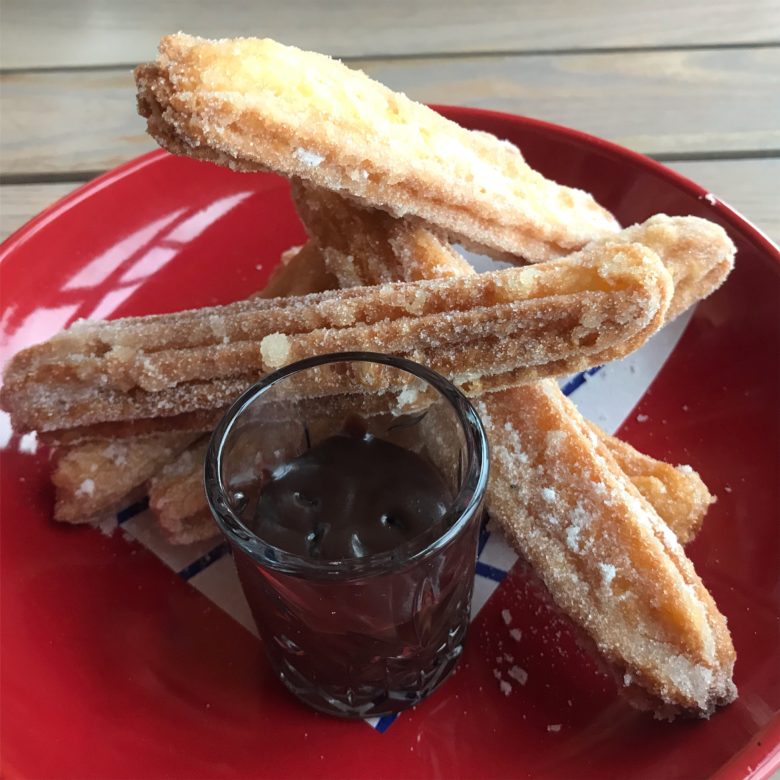 AND how could it be ruined when you have Prosecco and churros!?! They were fabulous! I recommend not sharing at all if you have them!!
It was a fun spot for lunch and a great one for catch ups and vinos!