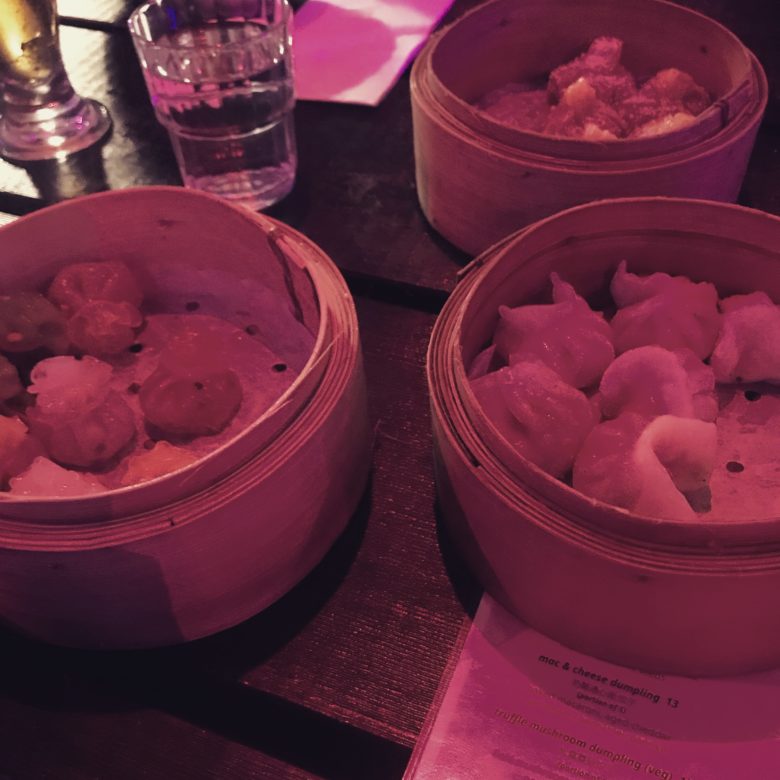 Definitely not my best pictures but you know I don't fuss and flash on a dinner date! Drumplings has popped up on Bourke Street and the menu will have you smiling as you look through the freaky fillings they have come up with. Signature vs Traditional, you can still get a fluffy pork bun or a crispy pork potsticker but you can also have you pie and eat it.. in a dumpling!
It's a nice enough setting though hubby 1 and hubby 2 picked the seats with the roof dripping in them intermittently, the staff laughed it off like it wasn't an issue but realistically fix it or don't sit people there when the rain is coming down in buckets, it's not a winning feature.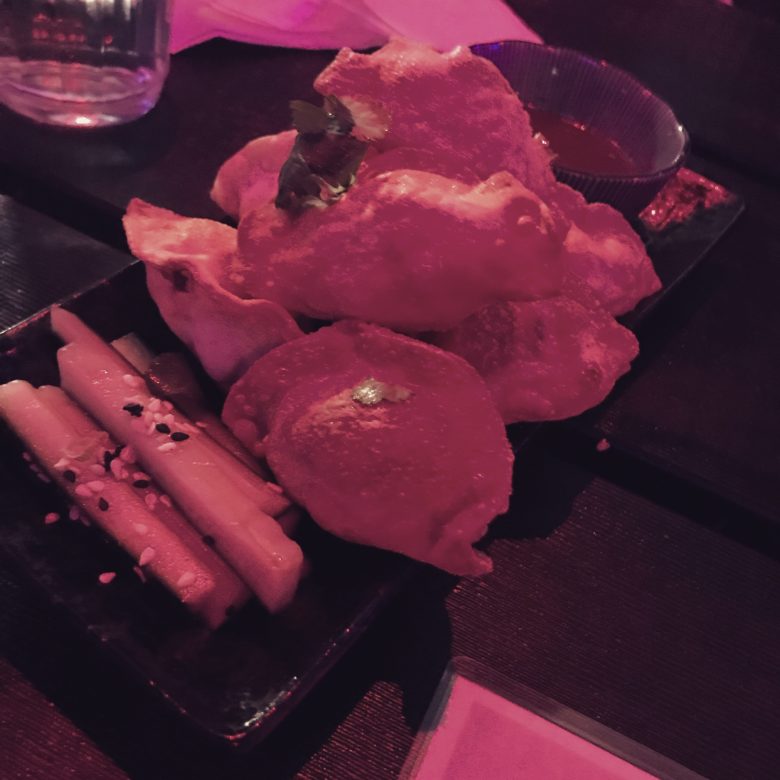 We obviously tried to eat everything on the menu, with a few of you and many dishes coming in serves of five you can run the gauntlet on most of the menu but you can run up a pretty steep bill pretty quick too! Cheeseburger dumplings had the tang of mustard with pickles and sesame seeds – it did taste like a burger. Pepperoni pizza dumplings, we thought were cheeseburger until we tried the cheeseburger ones! Aussie Pie were described as beef, gravy, carrots, Worchester, peas and ketchup… I got the essence of a Four'n'Twenty. Beef Rendang dumplings ticked the box. We passed on the mac & cheese and the truffle mushroom ones to move onto the more traditional side of dumplings.
Prawn and chive hargow were nice classic, lovely cooked pastry unlike that place we went to the other week! Xiao long boa were suitable soupy. The money bag assortment were cute like pots of fun and crispy fried dumplings were gobbled up in record time.
Cassava chips were amazing – the hunkier version of prawn crackers! Roti with potato dipping sauce was super flakey and gorgeous, could have eaten that one all to myself! Calamari was nice but not a very big serve, most of the bowl was salad.
Lemon meringue dumplings were a nice way to finish off.