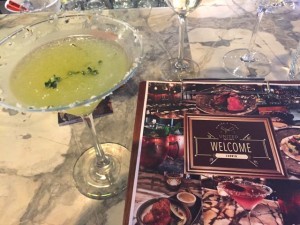 Welcome to United Kitchen, St Kilda has a new bar in town and we love it! We had a ridiculously generous night at United Kitchen and couldn't have felt more welcome from the owners. It was a foodies dream night of cocktails and a tour of the most amazing Mexican fusion menu. The lemon and thyme margarita was a sensation start and it was a zesty little number with Tequila, homemade lemon and thyme syrup and fresh lemon YUM!
Hubby was in heaven with the Michelada, Tecate Mexican beer taken to another level with a citrus and sweet chilli rimmed glass – LOVED this!!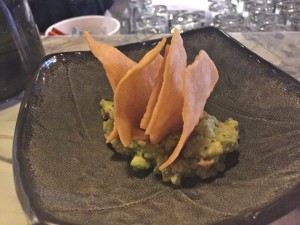 Traditional Mexican Style guacamole with a good hit of lime served with crispy baked corn chips, so lovely with that cold Tecate beer.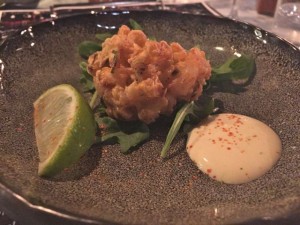 Corn and Prawn fritters were a little crunchy mouthful of fabulousness! I love anything in a fritter style and I love corn so this was pretty much my ideal! Tempura style Tiger prawn, corn served with chili lime mayo.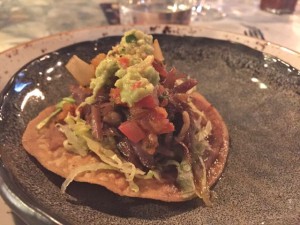 Duck tostados – so good! Generously piled up, rich confit duck with a chilli and thyme sauce, soooo good!! Little crispy tostados with that duck prepared and served with so much love and flavour!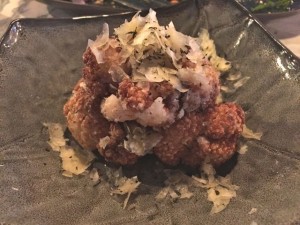 Making cauliflower sexy! Cauliflower tossed in fresh parmesan, thyme mix finished with Shichimi spice – just amazing!!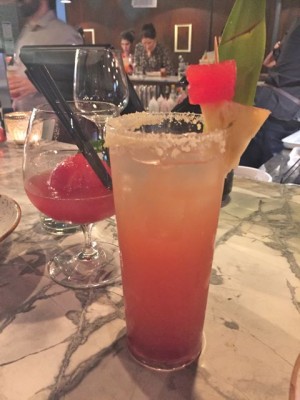 Cocktails ahoy! The Sphere – a frozen sphere of raspberry vodka with vodka, Semillion Sauvignon Blanc, raspberry syrup, watermelon syrup, cranberry juice and fresh lime. It was just fantastic!! The Knickerbocker is served with spiced rum, triple sec, raspberry syrup, pineapple juice and lemon juice – refreshing, fun and fabulous!!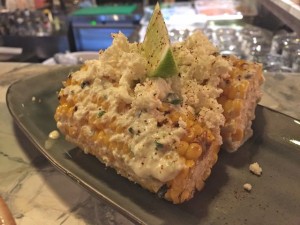 Best corn ever! Mexican style grilled corn loaded with ricotta, ancho chili mayo and a hint of fresh coriander WOW!! So good, that ricotta and chilli just made me very, very happy!!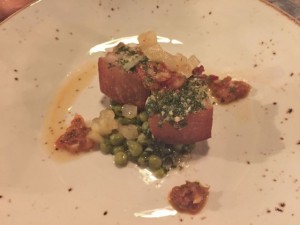 Succulent slow cooked pork belly with Chimichurri sauce, peas and fresh pineapple! Oh yes!!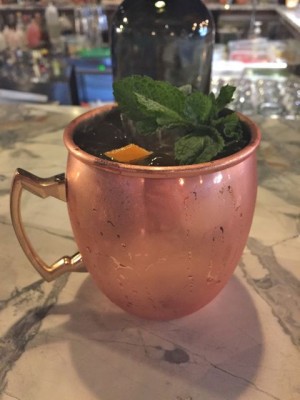 The Donkey!! Mezcal, fresh ginger and lime with ginger beer and mint – served in a very cool copper mug this was an absolute favourite!!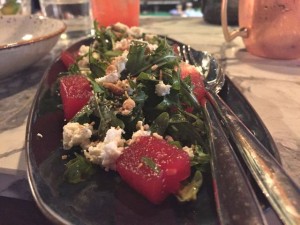 A beautiful, fresh salad with infused fresh ginger and mint watermelon with wild rocket, toasted pine nuts, fresh ricotta and a balsamic and apple vinaigrette – sensational!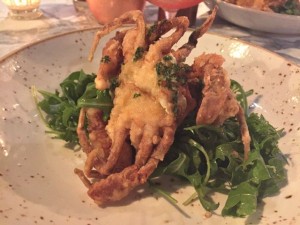 So much amazing food! The soft shell crab was one of the best I have had with chimichurri sauce and fresh lime, simple, fresh ingredients and a solid dish.
And then there was dessert……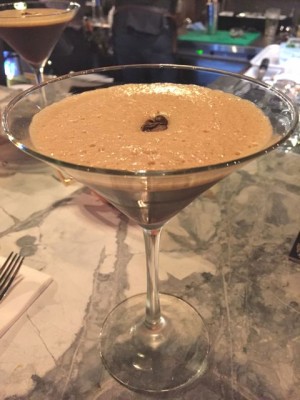 Espresso martini – so dreamy!!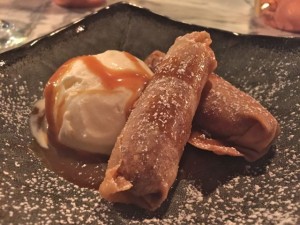 OMG! Salted caramel peanut butter spring roll served with vanilla bean ice cream and caramel sauce…. the most orgasmic dessert on the planet, I don't have a sweet tooth but this easily converted me!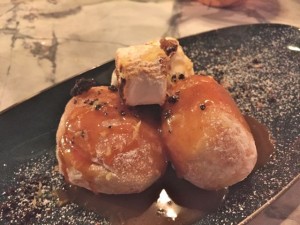 The Scrumptious Salty Caramel Doughnuts – Two mini salted caramel stuffed dougnuts drizzled with an extra lashing of salted caramel finished with vanilla bean ice cream and crispy buttered biscuit. THE BEST EVER!!
We had a sensational night at United Kitchen, they have opened up their dream restaurant and made it everyone else's dream bar to stop by, have a cocktail and nibble your way through a wonderful menu…. it's easy to get there but so very hard to leave!!