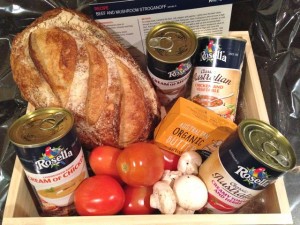 A very lucky foodie received a beautiful box with lots of lovely treats from Rosella Soups including a selection of their tinned soups plus recipes and ingredients to make a lovely pie or stroganoff. I am the first to love making a nice big pot of fresh soup when you have time at home but if not Rosella soups are Aussie owned and use local, quality ingredients to provide a comforting bowl of soup on a cold winter night.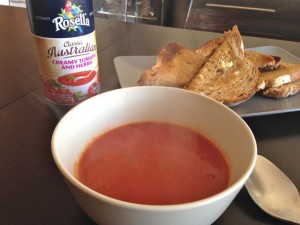 Wonderful, rich cream of tomato soup with hot buttered toast – the ultimate in cold weather comfort.
Chicken and vegetable soup was a winner with deep, rich chicken stock and plenty of carrots, potato, chicken and peas. Just lovely.
But you can use Rosella soups in an whole range of lovely recipes, when you need something fast and delicious you can do a lot worse than one of the Rosella Soup recipes, see their site for more details.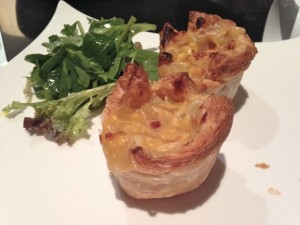 CHICKEN & CORN POT PIES
Ingredients
A dash of olive oil
25gms butter
1 large onion chopped
6 boneless chicken thighs cut into chunks or use up your leftover roast chicken
1 tablespoon plain flour
1 x 250g tin Rosella Chicken & Corn Soup
1 cup fresh or frozen corn kernels
Salt and freshly ground black pepper
2 heaped tablespoons chopped parsley
1 frozen butter puff pastry sheet
1 beaten egg (for glazing)
Method
Preheat oven to 180°C fan forced.
Heat a little oil and the butter in a large heavy-bottomed pot and gently sauté the onion stirring until transparent and just changing colour. Turn the heat down, add the chicken and gently cook for 2–3 minutes, regularly stirring.
As the chicken just starts to colour, sprinkle the flour over the chicken and onion and mix thoroughly. Then add the chicken and corn soup to just cover, together with seasonings and parsley. Mix well and bring to a gentle simmer and cook for about 20 minutes until the chicken cooked through and tender – adding a little water if needed to stop it drying out. Divide the mixture in to four 10–12cm ramekins or small pie dishes and set aside to cool.
Cut pastry in four squares, brush sides of each ramekin with water and one square over each. Cut a little slash in each piecrust to allow steam to escape or leave your pie topless for a reduced calorie option.. Brush the egg over the pastry. Cook the pies in the oven for about 20–25 minutes until risen and golden.
Serve with a freshly made salad.
Makes 4 x Pot Pies