Eis, Eis Baby! Vanilla….!
Albert Park's hidden little secret, tucked away in a tiny space is the wonderful Eis Japanese restaurant and having been around for nearly 15 years they must be doing a lot of things right! The set up is cosy and cute with tables running either side to make use of the limited space. The lovely Hiro will show you to your table and guide you through their wonderful menu packed full of Japanese traditional and new and a very respectable wine list. We loved the Chenin Blanc – perfect with our edamame and there were lots of other really interesting wines by the glass and bottle on offer.
The menu is pretty substantial for the number of bodies in the kitchen but they seem to execute everything beautifully and with obviously fresh, quality produce.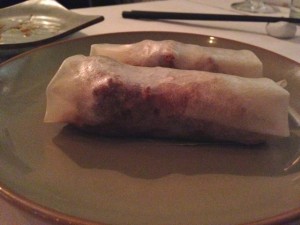 The crispy chicken wrap with cucumber, carrot & sweet soy sauce was fantastic, I could eat a whole lot of these if they let me but No! There are more amazing dishes to try!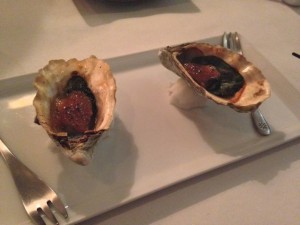 The special grilled oyster with yuzu miso paste was a little mouthful that packed a real flavour punch.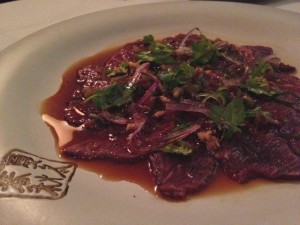 Sensational seared beef tataki with roasted garlic, incredible wafer thin beef with so much flavour, this was a beautiful dish both to the eye and the tastebuds.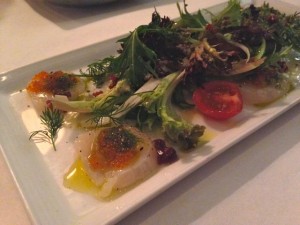 Scallop carpaccio with orange vinaigrette, basil pesto and tobbiko, just a great dish, dancing on the tongue with so many fresh and lively flavours, it was a lovely light change up in the meal.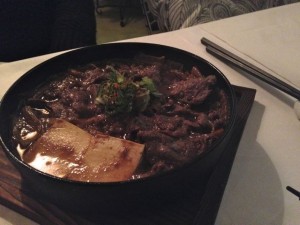 Oh the Sukitaki! Sliced beef with sweet soy, chinese cabbage and tofu – just me on a couch with a big bowl of this and the TV would be a perfect winter night!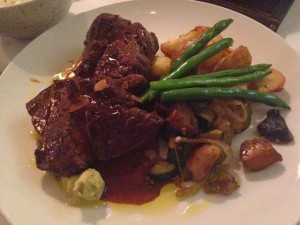 But then the grilled eye fillet, 300g Wodonga beef seasoned with teriyaki sauce, spring onion and roasted sesame was a damn fine piece of meat and I loved the comfort feel of this dish with the perfectly roasted potatoes and that teriyaki sauce was divine.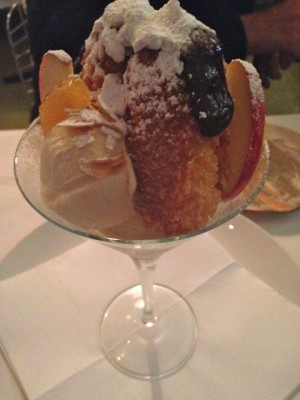 We couldn't leave without enjoying a little Panko crumbed banana with black sesame ice cream and vanilla ice cream – LOVE LOVE LOVE!! Super crunchy panko and that black sesame ice cream was perfection.
This is a perfect spot to enjoy some really great food, there was a sushi and sashimi platter that came out that even I got food envy over and I have just eaten half the menu! The staff are super lovely and it's a good all round great place to be…… but don't tell everyone…. we still want to be able to get a table!!
——————————
Food 10/10
Service 10/10
Music n/a
Toilets 7/10
——————————