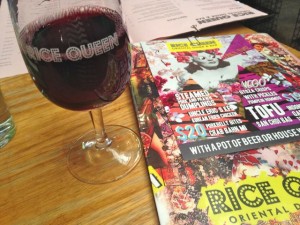 Big fan of Rice Queen and now our lucky friends live at the end of their road so guess where I suggested we have a catch up over lunch?! Perfect spot for a Saturday graze with a glass of wine or a cold beer. And the best dish to have with a cold beer?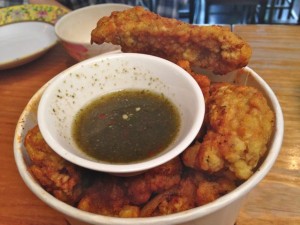 KFC – Korean Fried Chicken! Eric's seven spice crispy chicken ribs tossed with spring onions and whole chillies and served with mint sauce – That sauce is the bomb! Our little bucket of fried chicken ribs with all their spice and crispy wonderfulness is very welcome at our table and that sauce is not just a mint sauce, it is the most heavenly dressing known! Go the 10 pieces for $20 ALWAYS!!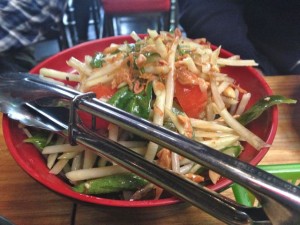 Beautiful and refreshing Papaya salad with snake beans, cherry tomatoes, peanuts, crispy shallots and fresh herbs in a lime and soy dressing is challenging with chop sticks but worth the effort, crunch, crisp, sweet, sour and just bloody good!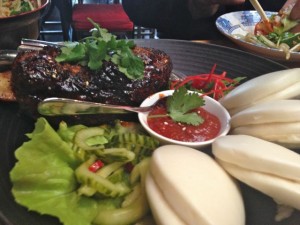 48 hour cooked spicy beef short rib served with Bao buns, pickled cucumbers, fresh herbs and spicy sesame soybean paste – wasn't falling off the bone as expected but I did a valiant effort to carve it off and encased in the pillowy soft bao with all it's friends it was a delicious bite or two.
Korean DIY tacos – slow roasted Korean style pork served with steamed rice, kimchi, butter lettuce cups and our own homemade 'ssam' sauce was again just a wonderful dish, there is so much flavour going on at Rice Queen and some decent heat too! It's a great menu to share with friends and just sit back and enjoy a lazy lunch.