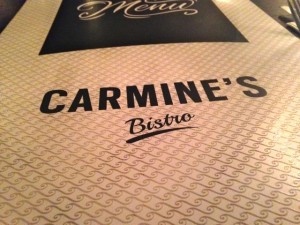 Apart from the Lygon Street vs Google maps confusion that happens to me way to often…. Getting the Carmine's was very easy! It's a Springy Thursday night and there are lots of people out and about on Carlton's famous Italian mile, Lygon Street. There is a lovely buzz of people touting their menus and enticing you into their restaurants but we are booked in and already late so to Carmine's we go! It's a little quieter than the rest, a big space that looks relatively new and there are several friendly faces including the lovely Gabriel who looked after us incredibly well, though the quintessential Italian who loves to feed you until you might pop!!
The menu at Carmine's is a big selection of all your Italian favourites, with beautiful bruschetta, entrees, pasta, pizza and more. But if you are like me and you can't make the tough decisions then there is the 'Let us feed you' option so you can enjoy a selection of all their favourite dishes…. But be warned – they REALLY love to feed you here!!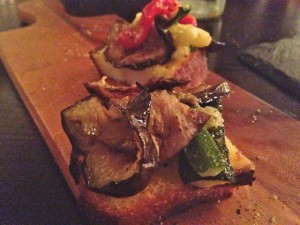 We started off with all the bruschetta's!! I was so excited I nearly forgot to take a picture!! A little sample of each, super lovely homemade crunchy bread with toppings such as traditional with garlic, super fresh tomatoes and pesto or the Primavera with marinated eggplant, zucchini and olives or the prosciutto with bocconcini and fresh basil or even the Mediterranean with roasted capsicum and ricotta. We got to try them all and they were just wonderful but I think my favourite was the traditional with beautiful, fresh plump tomatoes and garlic with pesto YUM!!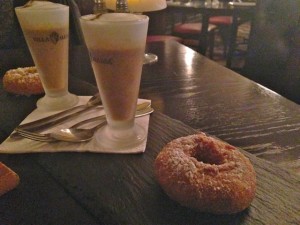 The gorgeous mushroom cappuccinos with onion doughnuts were out of this world! Knowing we were in for a long feast I was trying to try a little of everything but leave room for the next dish – hence trying to advise hubby not to eat all of the bruschetta…. Regrets, he had a few!! But the onion doughnuts I couldn't leave a crumb behind, just sooooo good!!!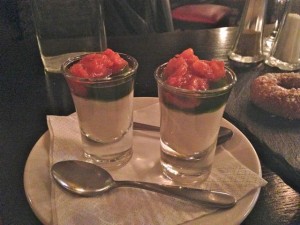 The ricotta mousse with pesto and fresh tomato was a lovely palette cleanser and that pesto is sensational.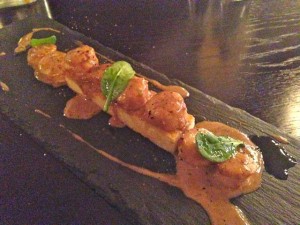 The scallops with garlic butter were lovely little nuggets with that lovely garlic sauce, it's totally worth all of the mints tomorrow!!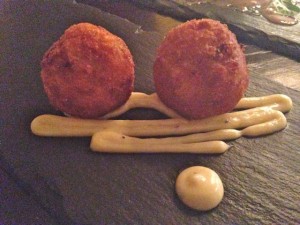 Arancini with tangy aioli were wonderful, crunchy coating with lovely rich rice inside – simple and perfect.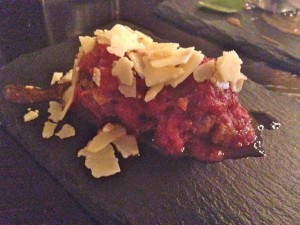 The meatballs with rich Napoli sauce and shaved parmesan were the sort of dish you want to get the recipe for! Meatballs can so easily be ruined by over complicating the ingredients or over cooking but these were super moist and juicy with simple, good honest flavours so well executed.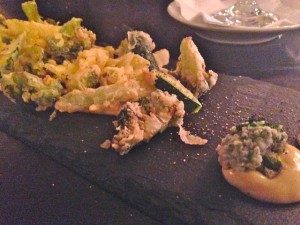 Broccoli and zucchini lightly battered and topped with parmesan and aioli, really delicious and good to get my greens in!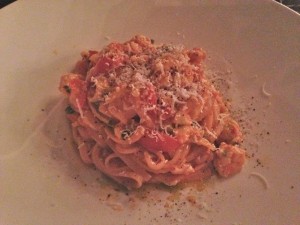 I adore pasta and I don't let myself have it very often as it doesn't tend to agree with me but I was going all out tonight and it was a perfect bowl of pasta. Fresh, al dente and delish! With creamy tomato sauce and fish cooked in lemon and topped with plenty of grated parmesan, oh I could eat this everyday it was so good!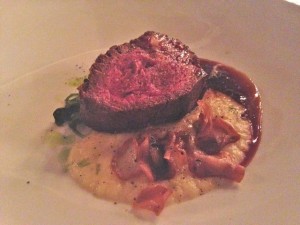 It's about this time we started to feel the skinny jeans were a bad move, its more food that we usually eat and though I wanted to keep going but we were getting way too full – told hubby not to eat all the bruschetta!! Poor Gabriel looked so sad when we pulled out the white flag! I think he was only half way on his amazing tour of their wonderful menu but there was no way we going to make it through pizza, mains and dessert!! So he changed it up to make sure we enjoyed the wonderful rosy rare steak on top of perfectly smooth and creamy parsnip mash and parsnip crisps.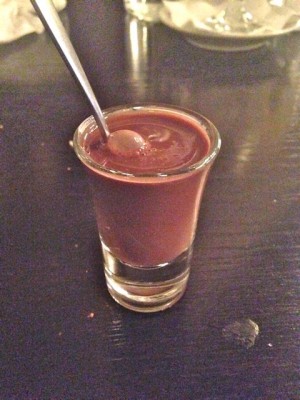 Shouting no surrender, Gabriel finished us off with a little shot of the real deal hot choc! Churning away at the bar this is the most luxurious, think, rich decadent little hit, I could do that every night to finish off dinner!!
We rolled out into the night and into a taxi to get home and rub our very full tummies, but we promise we'll be back for that pizza very soon…. Can't believe I missed out on the pizza! I love pizza!!!