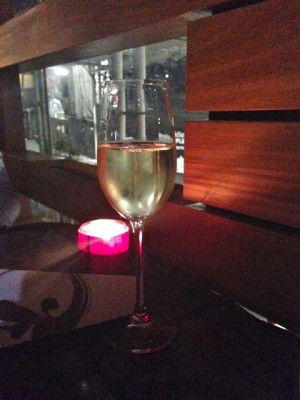 Hihou! Sounds like a Minion call! But it is actually a tiny little Japanese spot for sake, intimate conversations and Japas! Best of all you can actually book, which you need to as it is tiny and you don't want to rock up and ring the bell only to be turned away. So best plan for such a tiny bar…. Take a couple of over six footers and watch them fold themselves in and out of the tiny chairs behind tiny tables!!! It's totally worth it as you'll love just sitting back with a sake or a cold beer and some tasty nibbles and some really great service.
There is an elegance and calm to the place even though they are churning through cocktails, drinks and food for everyone and we always had a full glass of water and a great glass of Yarra Valley sparkling at hand.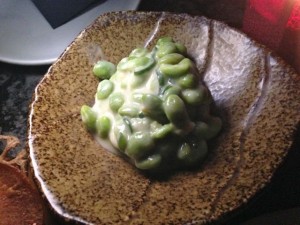 The chilli miso edamame were really lovely, popped out of their shells and dressed in their chilli miso, they were perfect for scooping with……
…..the housemade chips – sweet potato, parsnip and lotus root chips.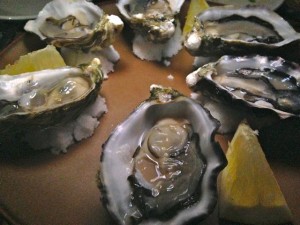 The freshly shucked oysters were perfection, uber fresh, shucked perfectly with no shell and removed from their bottom shell so all you have to do is squeeze a little lemon, give them a little push and down they go!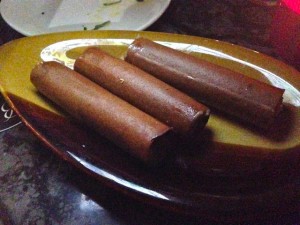 The 'Cuban' spicy tuna cigar was not something I had had before and it was really nice, smooth, creamy tuna in a super delicate tube, I'm not sure what the cigar was made with, it was very dark and incredibly thin.
There was lots more to try on the menu like panko seared tuna, spring onion puree and crispy shallots or sword fish sashimi, oroshi-ponzu and shichimi or buckwheat crepes with pork belly, pickled mushroom and Leek. Desserts also deliciously tempting with the Little Treats plate with Wagashi, Sesame cheese cake and Marshmallow or warm yuzu tofu cake with white chocolate sauce…. Tempting no?
It a super little spot, perhaps a well kept secret for Melbourne CBD but we love it!