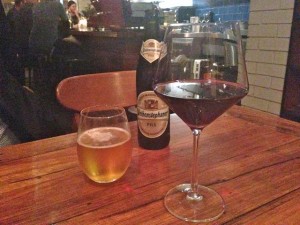 Clever Polly indeed, we found a couple of great spots on Victoria Street, territory unexplored previously there was a great looking African joint, a kooky little bar called Providence that plays vinyl and has a great mix of oldies meets hipsters and Clever Polly. So glad we did find Clever Polly as we were in need of a good glass of wine and food and we totally lucked out stumbling across these guys. It's a small spot, with the tiniest kitchen ever but they are a little power house and we had a really lovely evening just enjoying our meal.
The menu is a seasonal feast of tapas style dishes, ideal to share with your nearest and dearest and there are small bites like tempura battered pickles or sourdough with walnut butter or bigger dishes like pipes or pork belly with chicken liver dumplings hmmmmmm!!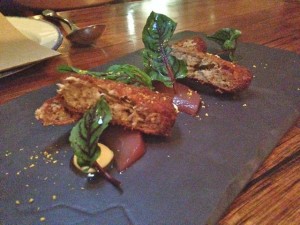 We went with the duck croquettes to start with pickled pear, orange mayo and sorrel, beautiful little crunchy nuggets packed full of meaty duck and then the hints of sweet and sour with the pickles pear and that mayo – gorgeous!
The sake cured ocean trout with green tea, yuzo foam and red seaweed – fish is my new favourite friend, fish is good! And Sake Cured fish is even better! Wonderful dish, lots of little elements all coming together to create balance and flavour combinations that rock!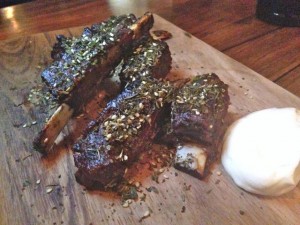 The Lamb ribs with harissa BBQ, za-atar and lemon yoghurt were so incredibly tasty, I still can't believe this food is coming out of that tiny little kitchen with just one little chef, that guy is a magician but just shows you work with what you've got and these guys are definitely working it!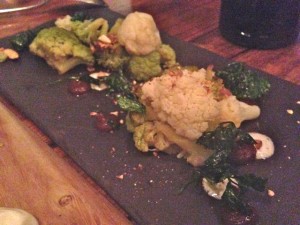 The Salt baked cauliflower with whipped feta, sumac, date and almonds is simply explained by one statement "You make cauliflower sexy!!" They sure did, perfection on a plate with crunch and spice and cream and sweet…. Just amazing.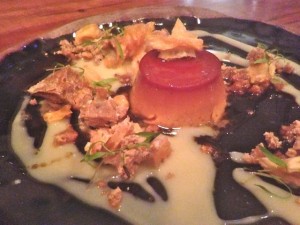 Not usually a dessert person but I just didn't want to leave so we ordered another glass of the sensational Chateau de Caraguilhes, a syrah, mouvedre, Grenache and carignan – corbieres and a crème caramel with pineapple, ginger, sage and halva – Oh yes we did!! The flavours were elegant, the crème caramel perfectly smooth with an impressive wobble, the additional flavours with the pineapple, ginger and sage worked well and it was again an impressive dish for a little kitchen in North Melbourne.
It was happy days all round with Adeline and the team, we were really chuffed we discovered Clever Polly and just a short tram ride away!