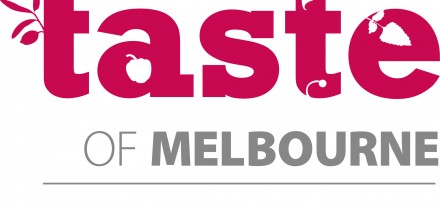 Taste of Melbourne, the foodies playground is back in just a few weeks and it's bigger and better than ever! Running from 14th-17th November, the 'World's Greatest Restaurant Festival' returns to Albert Park with over 15 of Melbourne's finest restaurants showcasing special tasting dishes including 'icon' dishes specially developed for the event. Chuck in over 100 artisan producers, mixologist master classes, beer hall, Bundaberg Distillatorium, the Healthy taste trail and the Tassie Pavilion and that is a whole weekend of fun!!
There are a host of delectable dishes from Melbourne's best with Chin Chin, Huxtable and Huxtaburger, Tonka, Mamasita, The Smith, Little Hunter, Albert St, Longrain, Taxi, B'Stilla and new kids on the Block Bomba and Saint Crispin. ……….. Phew!! I think we might need to spend an entire weekend there just eating our way around all of that! BUT you might want dessert? Nil desperandum! Burch & Purchese Sweet Studio will be in the house and we were invited to sneak peek at their decadent treats! (click here for blog)
But it's not just eating you way around the world with Melbourne's best, these is plenty of other fun to be had!
Beer Hall – presented by Beer & Brewer magazine enjoy local & imported beers and meet the brewers from Sail & Anchor, Coopers, Crabbie's Ginger Beer, Chang, Platinum Blonde and Blue Sky Brewery.
The Bundaburg Distillatorium – a mobile distillery experience!!. Explore the history of Bundaberg rum, from tales of molasses surplus, to the Bundaburg we know today. Educational and enjoyable!!
The Country Kitchen – Join Rebecca Sullivan of Dirty Girl Kitchen and the Granny Skills Movement hosting food demos. Rebecca has developed many a discussions around food and sustainability and will share her passion for local produce and recipes to enjoy.
The Dilmah Chef's Skillery – Join local and international chefs in one of the many skillery sessions running over the weekend and learn everything from how to fillet a fish, successfully pair flavours, and perfect your knife skills plus how to infuse Dilmah tea into an amazing dessert dish.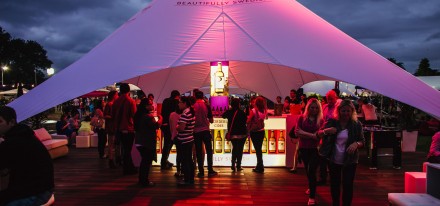 Sounds exhaustingly fun, you might need to relax in the custom built Beautifully Swedish Rekorderlig Star! Showcasing the full array of Rekorderlig Cider's including traditional Apple, crisp Pear, Strawberry-Lime, juicy Wild Berries, Apple & Blackcurrant, tropical Mango-Raspberry, refreshing Orange-Ginger and the new addition, Passionfruit.
From across the water Taste have also brought the best of Tassie to Albert Park and the Tasmanian Pavillion sounds like you will be enjoying the best of Tassie's local produce including;
Atlantic salmon from Huon Aquaculture
Cape Grim beef and Robbins Island Wagyu
Beer from Moo Brew
Tasmanian Single Malt Whiskey bar featuring Lark Distillery, Old Hobart Distillery and Sullivans Cove
Tasmanian Wine Bar showcasing wines from Cloverhill and Josef Chromy
A Tasmanian Oyster Bar
Apple and Pear Cider from Franks Cider and Spreyton Cider Co
Cheeses from Bruny Island Cheese
Lamb and Wallaby from Flinders Island Meat
There goes the rest of the afternoon!!
Win Tickets – NOW CLOSED – Congrats to our two lucky winners
SO – who wants to go? We have two double passes that will get you free entry into the event, you still have to buy your Crowns for your food and drink but we will get you in the gates for FREE!!
All you have to do is comment below on what you are most looking forward to tasting?

Entries close 30th October 2013 – Tickets will be sent in the post before event.