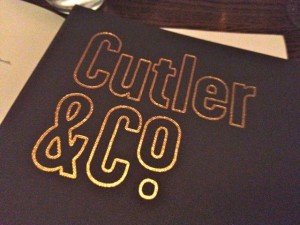 One of the many hot spots on Gertrude and a long standing one! It's been a long time since we visited and the vibe seems to have gotten a little softer and it is packed for a Monday night! A fantastic menu packed full of goodies and a gin and tonic to help us settle in and we enjoy some Seaweed and Tapioca crackers yum!!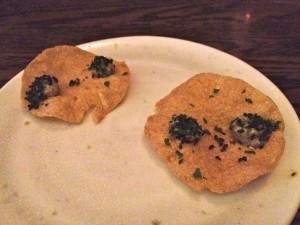 A couple of oysters to start with the Moonlight Kiss oyster and a Clair de Lune Bouton oyster are super fresh, salty and delish!!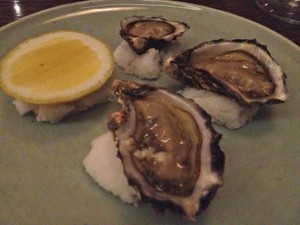 The service is fabulous here and just the right amount of attention and a perfectly timed meal, no rush, just relax and enjoy!
For entree I had the 'WA marron, jamón ibérico, buttermilk potato & leek' WOW!! Just a fabulous little dish with smooth creamy potato and salty jamon! Amazing!!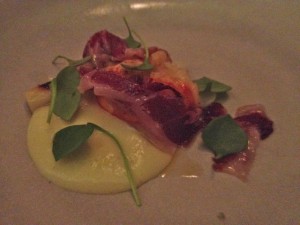 Hubbies 'Beef tartare, smoked hens egg, caper berries & artichoke' is beautifully presented but not my thing, he seems to be happy though – I thought he might lick the plate!!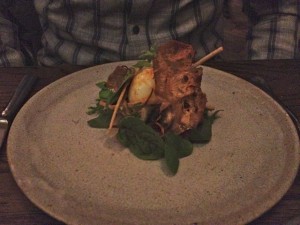 The mains are hard to choose between but I go with the 'Local line caught snapper, squid, nettle & oyster sauce' Just a fabulous dish, a generous serve of perfectly cooked snapper FABO!!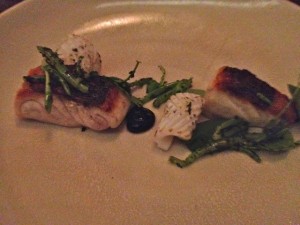 Hubbies 'Wood grilled wagyu rump cap, hay baked carrots & ash' is a fantastic piece of the most divine wagyu,
cute little carrots and not so much 'ash'!!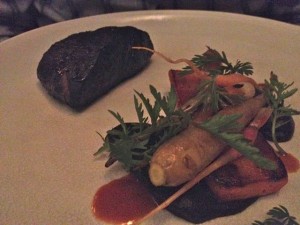 With sides of mixed leaves & mustard cream and a big bowl of 'Roasted King Edward potatoes & garlic dressing' we are totally spoiling ourselves and enjoying a few wonderful glasses of wine!
Rarely indulge in dessert but our long relaxing dinner means we have a little room left for a touch of cheese and ………. want for it…..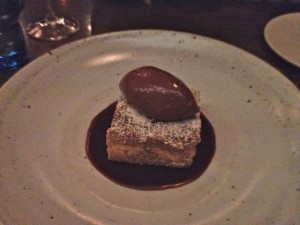 Chocolate ice cream sandwich, vanilla parfait & salted caramel – sensational!! We massacred this dish with two spoons and lots of smiles!
Such a lovely place, special mention to Michael who looked after us so well, we can't wait to come back for more!