One from the Foodie's Bucket List of 10 places to eat before you die perhaps? I know I was thrilled when I got the family to agree to a stopover on our roadtrip to SA – why wouldn't you! Well with the room, degustation and wine it did cost the same as the rest of the 4 days away but it was a special treat!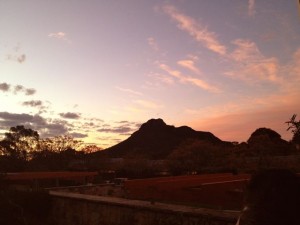 We arrived in time to enjoy a glass of wine as the sunset dramatically over the 'Gap' and the small bar adjacent to the restaurant was a popular haunt for the locals for a coldie and a catch up – it was good to see that RMH had maintained a relationship with the locals as well as the city foodies coming on their pilgrimage!
So onto the big event!
Dinner is a degustation style as per the website
The Royal Mail Restaurant offers a unique, nature-based cuisine focusing on the highest quality organic and heirloom produce and the latest culinary techniques. Multi-course tasting menus follow nature's cue to change with the seasons and are inspired by the hotel's natural surrounds.
And we certainly did enjoy wonderful, fresh seasonal produce, all with a special twist! You can choose from omnivore and vegetarian… the first hurdle for my steak loving family… Omnivore – my understanding is that this is where the vegetables are the heros of any plate with a touch of protein!
Round 1 – Bread and butter!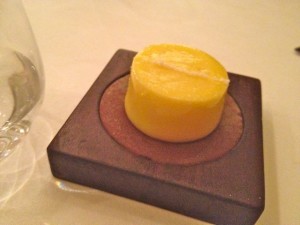 I am calling this round one because I LOVED it!! Anyone that reads this blog regularly knows I have a real thing about what a restaurant offers bread wise and when it is done well I get really excited that we are in for a great meal. When you get the softest, richest butter smoked with wine vines (I think!) that just makes you exclaim with delight you know dinner is an immediate hit!!
Round 2 – A tasting selection of
– Rice paper with Yuzu and Salmon roe eggs
– Rainbow trout with coffee and black treacle
– Chicken crisp
The rice paper was a big rice cracker of fun with popping pods of fishy loveliness and the yuzo – a an asian citrus fruit was nice!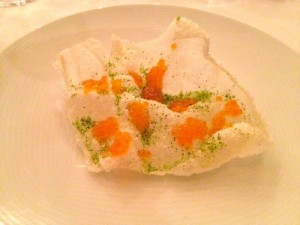 Chicken Crisp – super ironed chicken!! I don't do much ironing but I could still imagine this would take a while to bake between very heavy trays to get perfectly wafer thin chicken crisps!! A guilty indulgence normally transformed into a clever little amuse bouche!!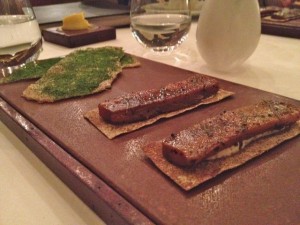 Rainbow trout with coffee and black treacle on rye was lovely but it wasn't very strong flavoured (with my expert palette cough cough!!) but with such big flavours in the description we all approached this one hesitantly and it was very mild and I love trout so a great one for me!!
Round 3 – "this morning, this spring; first asparagus, peas, frozen radish"
Yep this is getting serious, my brother has flowers on his plate and a radish granita!! It was a throughly lovely light dish, refreshing and pretty!!
Round 4 – Jerusalem artichoke, triple cream cheese, hazelnut praline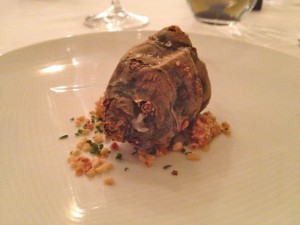 I think this was my favourite! A big fresh gnarly artichoke with an oozey cheese filling! You could literally press on the 'choke and pump the cheesey filling out!! Delish!!
Round 5 – Egg yolk and new potatoes, salt fish and crackling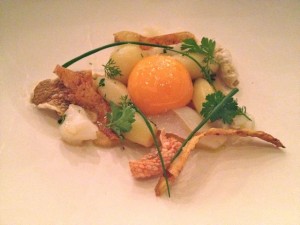 Again super fresh, delicate, pretty and light, each dish is a small modest portion of wonderful flavours and this creamy rich yolk with starchy potato and the salty fish and crackling was a wonderful dish!
Round 6 – Flathead and pak choy, salsify and buttermilk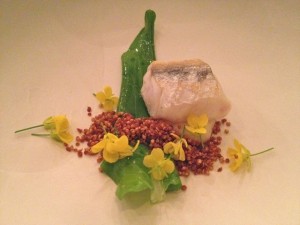 A tiny piece of flathead with the most amazing quinoa sprinkles! Cooked in stock and then roasted I definitely want to try this one!! A little mouthful of heaven!!
Round 7 – Eel and bone marrow, eggplant, pickled vegetables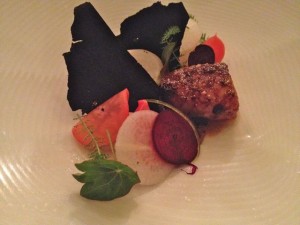 Ok – I think the world is divided on bone marrow… I've tried it doesn't rock my world, it's probably a textural thing! The picked veggies were lovely but I think we all struggled a bit with this one!!
Round 8 – Pigeon and beetroot, rhubarb and charred radicchio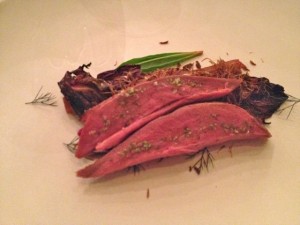 Very rare pigeon as warned, was a welcome but of red meat on the plate for the carnivores! I was probably starting to fail a little bit, though small plates it is a three hour meal and all those small dishes make one big meal all together!! Again an elegant dish, I am not a fan of radicchio but it was all very nice.
Round 9 – Fallen Fruits: Apple, Almond, Caramel and Chamomile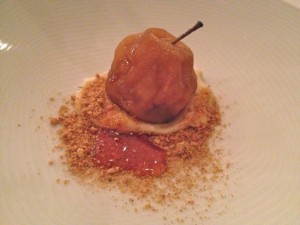 No mention of the pretty strong blue cheese coming through this dish to maintain a level of savoury, still it was a rich, sweet, sharp dish.
Round 10 – Milk and honey, mandarin and black truffle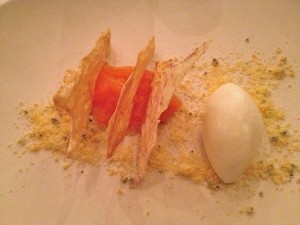 Light, fruity, creamy and lovely!!
Round 11 – Carrot, cocoa and cardamom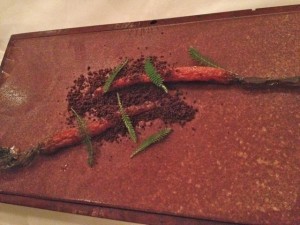 An last little board! It was an interesting way to end the meal and it wasn't unpleasant!!
So many plates and glasses later we are pleasantly full, not bursting at the seams and it's a short walk back to our lovely room for a good nights sleep.