Simple healthy fast food at home!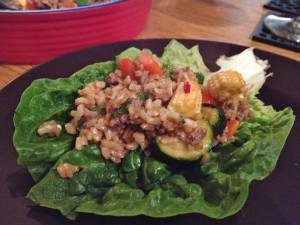 Ingredients;
Some mince – I used a bit of pork mince but you could use anything!
Small onion chopped
Bit of chilli – depends how much you like!
Bit of Garlic – as above!
1 tablespoon of each of the following hoisin, soy and sweet chilli
Some random veg – we used mini corns, carrots and zucchini
Some lovely fresh lettuce leaves that you can use as healthy green taco shells!
Method;
Bit of olive oil in pan – add chilli and garlic for a minute and then onion. Once onion is browning as mince and brown through to cooked. Remove from pan.
Steam or stir fry veggies.
Add mince and veggies to the pan and add the sauces – once all warmed through serve in lettuce cups and enjoy!