Freestyle Expresso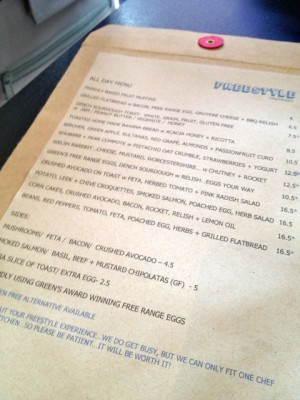 Big fan of Freestyle Expresso, since they opened they have been delivering super healthy, super delicious food to South Melbourne. What a display fridge that is always full of wonderful fresh salads, croquettes, arancini, sandwiches, panini and so much more including a cheeky brownie or rocky road!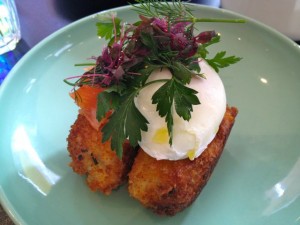 Brunch today is leek and potato croquettes with poached egg and herb salad……. OMG it is sooooo good, pop that perfectly poached egg and let the yolk ooze out onto super fluffy croquettes. I am in love with these beauties!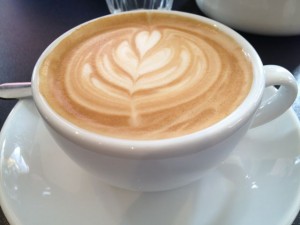 Pair with a perfectly brewed coffee and you know you are onto a winner!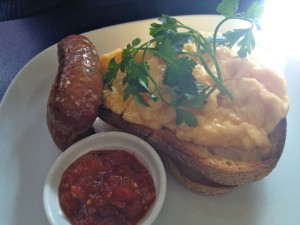 Hubbies eggs are that perfect balance just before they set too far and past that not quite cooked – not an easy feet, some top chefs test their new cadettes just by simply cooking eggs!! This guy would be accepted straight away!! (yes, I am watching too much Top Chef!!). Hubby is also a sausage snob! Very fussy about low quality, fatty, ominous sausage fillings… these get a 'hmmmmm' of approval! And they are very delicious!!
Love Freestyle, I understand why I can't even get a seat some days, maybe you need to expand and share more of the goodness!!


********************************************************************
Last visited 6th August 2011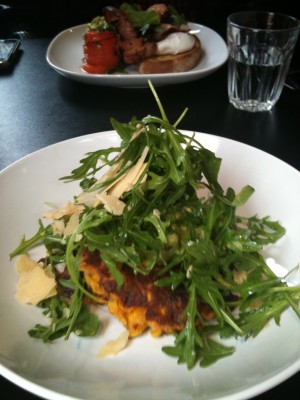 Breakie – the most important meal of the day! And at Freestyle they clearly understand this and provide a fantastic menu to ensure you are getting the best breakie possible.
We have been a few times since they opened and they have never failed to serve great food, the best coffee, friendly service and banging tunes!
This time it is corn fritters with avocado smush, rocket, poached egg and a great tomato relish and it is not a disappointment, the food noises are out!!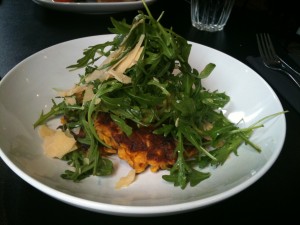 It is a hearty and very pleasing breakie but I am a little envious of my hubbies poached egg with bacon and smush and tomato on toast is looking great!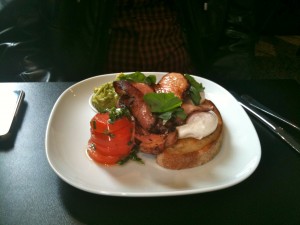 It is an important meal and I think it was the best it could possibly be!! Full tum and off to the market shopping – Top Tip Never shop on an empty tum!!