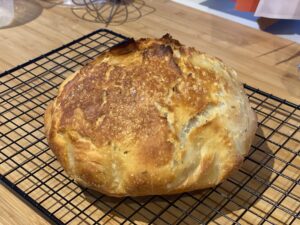 Dutch Oven Bread
I got this recipe from a great person who helped me a lot when my body was riddled with inflammation. Though they recommended a gluten free diet this fool proof easy bread was a treat that I could make and satisfy my carb cravings!!
Ingredients:
430 grams of plain flour
300 mls water plus 4 tablespoons
Sachet of yeast
1 tsp salt
I play around with adding different flavours such as dried rosemary and black olives or dried thyme and Parmesan. Just add a table spoon to your raw dough before proofing.
Method;
Mix all ingredients in a plastic bowl
No need to knead! Just bring everything together, I use my hands to mix and form into a ball.
Cover the bowl – I use a shower cap from an old Nigella trick
Leave covered overnight on the kitchen surface
In the morning reveal your dough and lightly flour the top in the bowl
Pre heat your oven with your Dutch oven pot in at 240 degrees
Roll your dough out into a piece of floured baking paper – I use a spatula to move the dough away from the edges of the bowl and shake a little more flour on as you go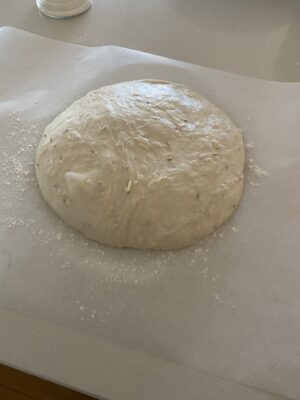 Use your hands to form the dough into a round smooth circle and leave to proof again for 15 minutes whilst the oven is warming
Carefully take your Dutch oven out and take the lid off, pick the baking paper up with the dough and drop into the pot and then lid back on and into the oven for 18-20 minutes until the top is barely starting to brown
Then take the lid off and bake for another 18-20 mins until golden brown
Remove from the oven and put on a rack to cool
Serve slathered with butter!!!