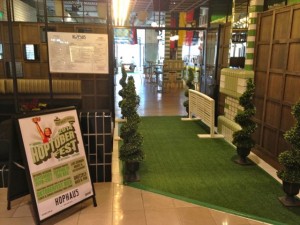 Ich Liebe Dich Melbourne! With yet another German themed restaurant popping up on Southbank, Hoffbrau House is no longer alone and everyone can explore a few more variations on schnitzels and Bitburger. Hophaus is sufficiently cheesey with astro turf and plenty of 'HoptoberFest' flags around. The space has transformed into something that looks twice the size and the balcony is full of big wooden bench tables for everyone to enjoy the sunshine and a vast choice of beers, wines and schnapps.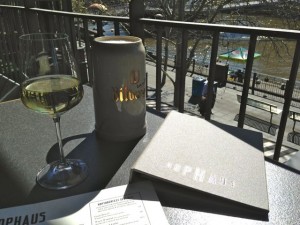 The menu works across the familiar favourites with schnitzel, wurst, spätzle and sauerkraut, German potato salad and bratwursts are all ready to go with a beer and breadzel.
The staff are friendly and probably appreciate not having to dress in the leiderhosen, the girl looking after us is really nice and there is definitely an authentic German accent going on there! It's a beautiful day and we have no where to be so we enjoy a glass of Gewurtstraminer and hubby gets the massive ceramic tankard of beer (stays surprisingly cool in this weather!).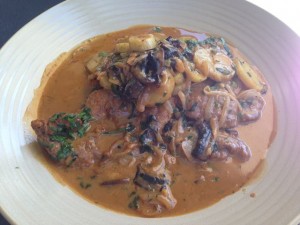 Menu wise, I couldn't go past the jagerschnitzel, harking back to my childhood I have craved someone who can pull off a real Jager sauce, the creamy mushrooms with a depth and richness that you know is definitely not low fat but it's full flavour. The dish is generous and I could have used a spoon just to slurp up all that sauce, underneath was a large breaded schnitzel (assuming traditional veal) and lots of lovely mushrooms and scalloped potatoes. Delicious! It's the closest I have gotten in 15 years and it's one of those dishes that are so good, you know you only need to eat half but you cannot stop!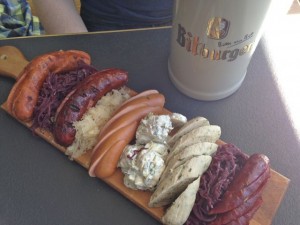 Hubby goes all out, a litre of beer goes well with a platter of sausages! A Bratwurst (not how I remember them) Cheese Kransky, Weiss Wurst and a spicy sausage. All very nice (apart from the Weiss wurst – not my thing! It has spongy texture and is sadly left on his own on the board!) With a little sauerkraut and potato salad and a selection of traditional German mustards I am taken back to happy times and wonderful wurst.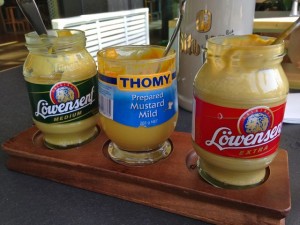 It's a great place to be, with summer coming I can imagine you won't easily get a booking on the Saturday night but if you can spend a lazy afternoon there it is well worth it.