You can't help but love Chez Dre, the tables have been packed since the day they opened with customers enjoying amazing beakie, brunch and stunning cakes.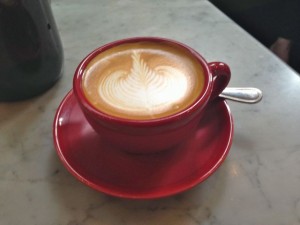 Coffee is damn good and gives us time to debate over the menu – so many delish choices. Potato rosti with chorizo, asparagus, capsicum couli and poached egg or confit ocean trout with blood orange and shaved fennel – WOW!
We are nearer lunch so we go for the duck sandwich and pithivier…. brace yourself this is going to immense!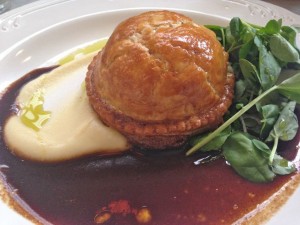 Slow Braised ox cheek with mushrooms in a home made puff pastry case with celeriac purees and red wine jus….. wanna see inside?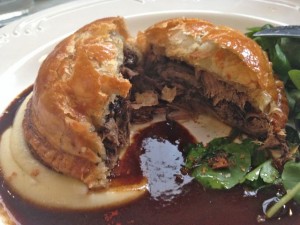 How good does that look, the meat is incredibly rich and falling apart and the pastry is so very lovely and that puree and jus…. drooooolllling!!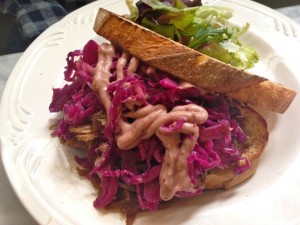 Hubby goes for the Confit pulled duck with onion jam, red cabbage, grated apple and truffle mayonnaise, it is huge and so good! Heaps of gorgeous duck falling apart with all those beautiful trimmings… so bloody good I couldn't stop stealing!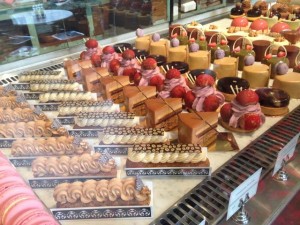 How good do they look? Sadly no room today, next time 🙂
Always a pleasure, if you can find a seat, it's a great place to be.
**********************************************************************************************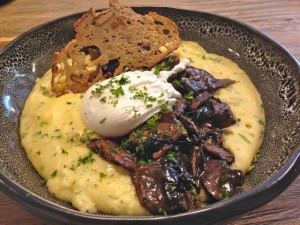 Last published 6th December 2013
It's has been ages since we last visited Chez Dre, in our defence it has had quite a run since Epicure let the masses know and at one point there was even a front of house 'bouncer' taking names for waiting lists for the queue down the road …. no thanks!! But it was and still is an amazing spot and deserves all the attention and patronage.
The menu still has the cute little breakfast platter which I originally loved as well as plenty of stand out dishes including Glazed pork belly with jalapeno and corn polenta cake, Morrocan baked eggs with spicy lamb sausage and plenty more. Plus Cakes, don't forget all the amazing cakes!!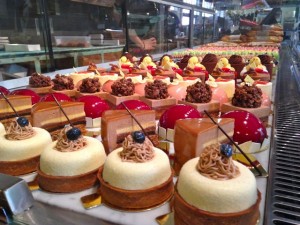 Staff are friendly, easy going and accommodating, we had a little person with us and there was plenty of room to manoeuvre the pram and a high chair on hand.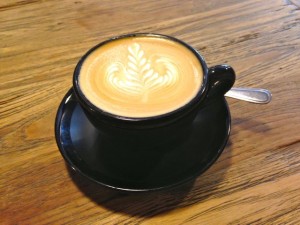 So many lovely choices but I couldn't go past the Braised mushroom ragu with swiss, field and button mushrooms on a bed of soft parmesan polenta, poached egg and truffle oil. So good it makes me want to swear!! It was sooooooooo delicious!!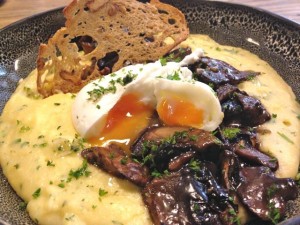 How good? It was rich, deep, decadent, generous and we both felt quite spoilt.. and full! Congrats Chez Dre you have lasted through the Epicure effect and come out still the great spot you were from the day you opened.
************************************************************
We stumbled upon the latest and greatest in South Melbourne, the usual story see a sign, follow a cobbled street to a small doorway and then enter the tantalising world of Chez Dre.
I heard words like 'old photographic studio', 'Michelin Star Chef', 'Paris'…. I saw the most amazing fit out for a long time, beautiful lattice work, wander through high-back green couches, amazing floor work and windows into the patisseries world and then out into a gorgeous garden seating area.
The coffee is great, the macaroons …… oh my – cherry, green tea and caramel for a first taste.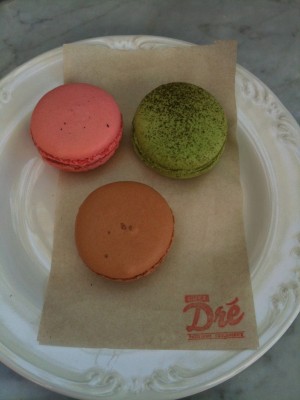 We went back the next day, and the next and the next!!
The new menu has launched and it is gorgeous, the breakfast platter is exceptional value and WOW!!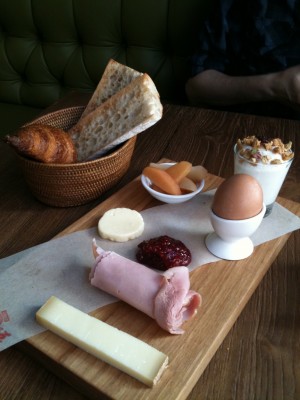 Warm baguette and croissant accompanied by a smorgas board of yumminess!! Amazing butter, fragrant jam, perfectly soft boiled egg, jambon, cheese and this wonderful fluffy vanilla yoghurt with sprinkles of granola. It was a perfect platter for two to relax and enjoy with a great coffee!
This place is something quite special – I am going back tomorrow!