Cookbook: Easy Gluten Free
A book that makes being Gluten Free a breeze! I'm not a strict GF-er but it does help to manage fybromalgia and it's not as big a challenge these days. Helen is the queen of GFing and this book is packed with awesome recipes for breakfast, lunch and dinners plus sweet treats and the best breads, speaking of which….

Recipe 1 – Gluten Free Loaf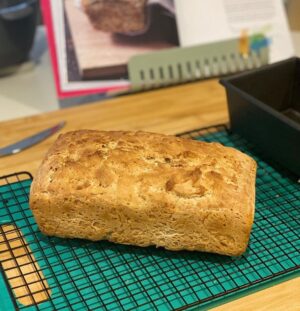 Baking has always been scary territory, unforgiving and frequently failed learning the hard way you need to really weigh things and not go free styling!!
This recipe could be foolproof as you follow a couple of easy steps and get a beautiful loaf in the end! Buying new flours and gum etc all new territory but was super excited at foaming yeast – tick working! And dough correctly doubled in size after proofing – working tick!!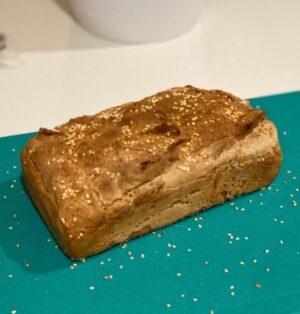 Cooked this a few times with varying results, top tip – make sure your water with your yeast is warm NOT hot! Killed my yeast! And would  avoid the sesame seeds next time as they go everywhere and I'm a neat freak!! But great result and really yummy bread even hubby likes it!!
Recipe 2: Snapper Pie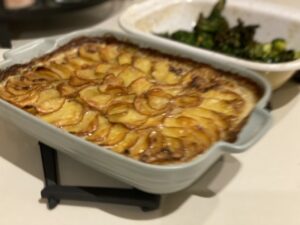 Awesome!! Nice twist on a classic using coconut milk and a sliced potato top, like a fancy fish version of a lamb hotpot!  Super quick and easy, not too many ingredients and nothing complex so perfect for a week night dinner and even better you have to open a bottle of wine so might as well have the rest with dinner!!
Recipe 3: Quick Yoghurt Flatbreads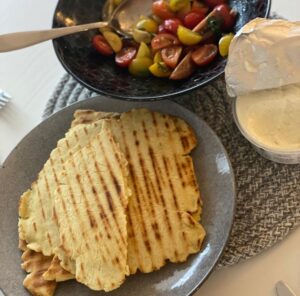 Super quick and easy to make your own gluten free flatbreads – I impressed myself!! We had these with curry and then with soup the next day – genius!
Recipe 4:  Simple Lahanosalata (Greek Cabbage Salad)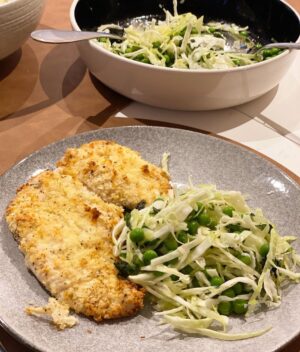 Like many of the recipes in this book it's a super simple combo of fab fresh ingredients that delivers a fantastic dish.  I loved this salad, with a simple schnitzel it popped and with a squeeze of lemon I was in a super happy place.
Recipe 5: Charred broccoli, pistachio & bocconcini salad

Super sexy salad!! Such good flavours and  loved the creamy cheese with crunchy nuts – it's the salad with a bit of everything.
Recipe 6: Greek Horiatiki Salad
Classic Greek salad but important to get right, fresh and simple with that delish layer of feta ?
Recipe 7: Thai sweet potato soup with roasted cashews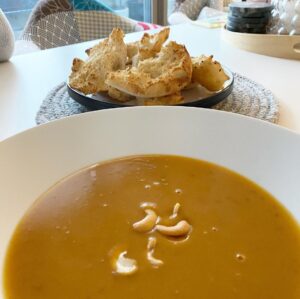 Again simple but full of flavour, easy one to whip up for a lunch and use up those sweet potatoes lurking in the cupboard!
Recipe 8:  Smashed pea and corn fritters w/ lime avocado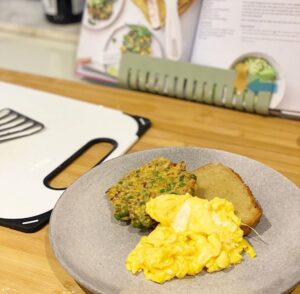 Loved these little beauties, made a batch and stocked up the freezer for many a fab breakfast, batter looked a bit thin but it held together really well in the pan and just made sure they had a good crust before flipping .
Recipe 9: Lamb Pastitsio
Big fan of a pastitsio and this might be the best recipe yet, it just works so well and is total comfort food, in fact with another lockdown announced it might be time to knock this one out again!!
Recipe 10: Tender Chargrilled octopus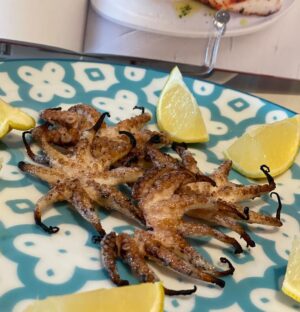 Hubby decided to do this one, as much as baking scares me squid is a close 2nd! Damaged from a childhood of elastic band calamari this was the most tender and gorgeous tentacle I ever had! Once you know how to do it it seems so simple!! Our only problem was we didn't make more!

Recipe 11: Crispy Pork Belly with braised fennel and carrot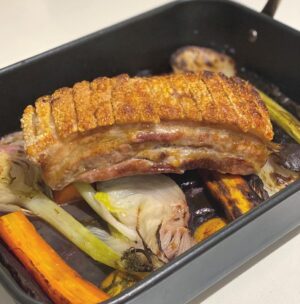 Had to be one of the best pork belly recipes I've found to get super crunchy crackling and mega moist meat. It's all in the secret of how to cook your pork.
Recipe 12: Slow cooked lamb shoulder with lemon potatoes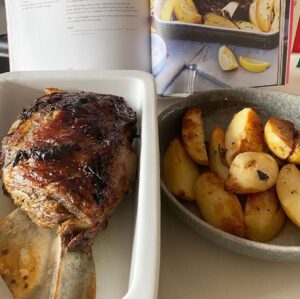 If the pork belly was brilliantly cooked then this is its twin, this took me back to all those Greek holidays and lemon potatoes should be happening weekly!
Recipe 13: Lamb shanks with pomegranate balsamic glaze
Such a good one, I love a slow cooked shank and the sweetness from this dish balanced by the tartness of the balsamic was fabulous. I could have that sauce on any lamb, anytime!
Recipe 14: Black pepper steak stir fry
Hubby strikes again with a week night cracker, fastest meal in town and so damn tasty. Was not a pretty picture though!!!