Recipe: Silverbeet & Feta Feel Better Pie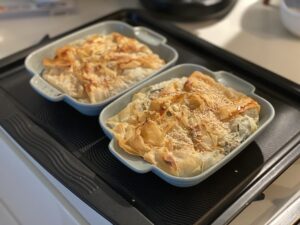 We're trying to eat better this week and have a bit of a reset on the gut.  This recipe works really well packed with greens and using filo limits the amount of pastry whilst still making you feel like you're having an indulgent pie

Serves 2
Ingredients:
6 sheets of filo pastry
200grms Feta
150grms Cottage Cheese
1 tsp Dried Dill
4 Kale leaves
4 Silverbeet leaves
1 Clove of Garlic minced
1 Lemon juice and zest
1 tbsp Honey
2 tsp Sesame Seeds
Method:
Pre heat oven to 180 degrees.
Chop up the greens and wilt in a pan with some spray oil, garlic, pinch of salt and lemon juice.
In a bowl combine cottage cheese, chopped feta, dill, zest.
Once the greens are wilted leave in a bowl to cool and then add to the cheese mixture and add salt and pepper.
Spray oil and line two individual or one larger casserole with sheets of filo (split the filo across the two) leaving the extra hanging over the edges. Spray the inside of the filo and then put in your filling.
Pull the pastry edges over the top and scrunch together then spray with oil and drizzle honey over and the sprinkle sesame seeds.
Cook in the oven for 20 to 30 mins until golden brown. Leave to cool for 5 mins.
And Enjoy