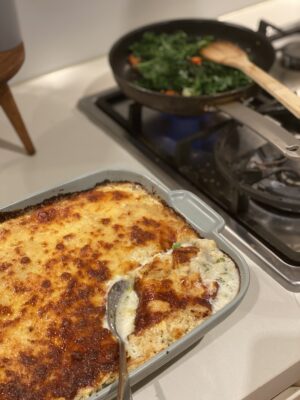 Feel Better Fish Pie
Serves 4
Ingredients:
1 large cauliflower broken into florets
400grms white fish – I used Basa – cut into bite size chunks
12 plump scollops
1 tsp of dried dill
1 tsp of dried parsley
Zest of one lemon
Pack of light ricotta
1 1/2 cups of Almond Milk
1 bunch of broccolini
1 cup of frozen peas
1/2 cup of finely grated cheese – I used cheddar

Method:
Preheat oven at 180 degrees.
Put the cauliflower in a bowl and cover with cling – microwave for 10 mins or until soft enough to mash.
Put the ricotta, milk, zest, herbs and salt and pepper in a pan on a medium heat and stir until incorporated – don't let boil.
Finely chop the stalks of the broccolini and add to the sauce with the peas.
Arrange the fish and remaining broccolini in a medium sized casserole dish spaced out and then pour over the sauce and veggie mix.
Carefully mash or use a stick blender on the cauliflower and add salt and pepper and a touch of spread.
Spread the 'mash' over the fish and sauce and then scatter the cheese on top.
Bake for 25 – 35 mins or until the top is browned and the sides are bubbling.
Serve with your choice of leafy greens dressed in lemon, olive oil and chilli.
Enjoy