Monday Night Prawn Bisque-ish Pasta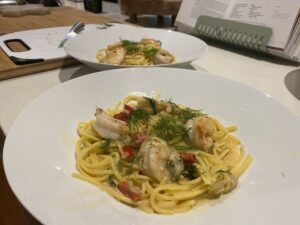 Serves 2
Ingredients;
8 raw prawns – I used banana prawns
1 fennel bulb with good fronds
2 garlic bulbs
1/4 cup white wine
1/2 cup of stock or bone broth
200 grams pasta – I used gluten free spaghetti
1 tablespoon of sour cream
Half a red pepper
Olive oil
Salt and pepper
Method;
Dehead and peel the prawns, keep the shells and heads in a separate pan to the prawn meat. Don't forget to de-poop!!
Put the shells and heads in a hot pan with  1 tablespoon of olive oil and the garlic minced or sliced and brown whilst pressing the heads to get the juices out!
Add in 1/3 of the fennel bulb roughly chopped with salt and pepper and cook for four mins, add the white wine and cook for another 5 mins then add the stock and a cup of water and allow to reduce for 15 mins.
Cook the pasta al dente and put the rest of the fennel bulb and chopped red pepper in a separate pan with a glug of olive oil and salt and pepper and allow to cook through for 5 mins.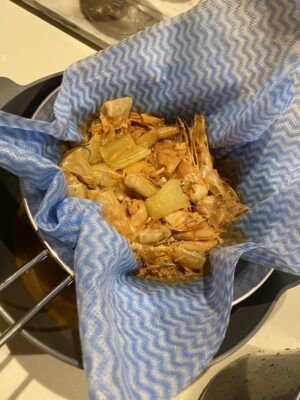 Take the fish shells 'stew' and strain through a colander and cloth to remove all of the fragments and impurity's.  Once done put back in a clean pan and reduce for 5 mins before adding the fennel and peppers.
Drain the pasta and keep 1/4 cup of the cooking water.
Melt 1 tablespoon of butter and add a handful of fennel fronds then add prawns and cook for 1 minute on each side and then remove from the heat.
Add the sauce with the pasta and pasta water and warm on the hob, add a handful of fennel fronds and the sour cream and gently heat.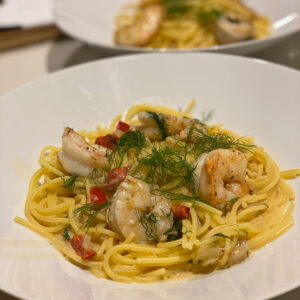 Serve the pasta in a fabulous bowl and top with the buttery prawns and some good bread.