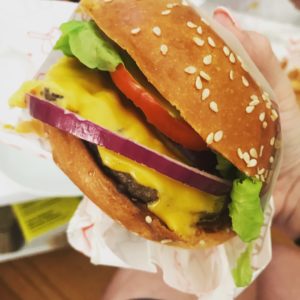 What's that? My burger-loving husband said? A new burger spot in Port Melbourne! Tell me more!
Burger Lords has arrived and there was a bit of a buzz about the spicy fried chicken and burgers, well we must investigate.
Southern Fried Chicken wings, fillets, in a waffle cone and in original or spicy – who wouldn't want that in their tummy?
Burgers – Classic is your beef, American cheddar, onions, lettuce, tomato, dill, mayo, ketchup and mustard – the trifecta of sauces is the BEST!! Other features are fried chicken, an array of cheeses, sauces and accompaniments as well as the obligatory vegetarian options. We went the classic – always the true test and it was fricken great! Excellent roll, fresh crisp salad, three sauce genius and perfect melted cheese.
'Supporting Acts' are fries, loaded fries, saucy fries and ribtickler fries with rib meat, bbq sauce and onions!! Get more with popcorn chicken, onion rings, mac and cheesy balls, haloumi fries and more of those ribs! Regular fries were damn good, crispy, crunchy and it was hard to stop eating them.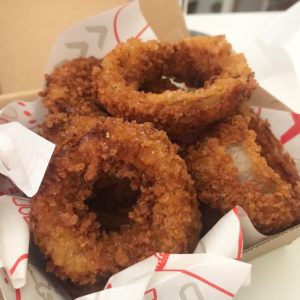 Onion rings weren't my fave, quite a thick jacket and quite salty but I still managed to get through several!!
Shakes and concretes offer a smile worthy list of flavours like sexy apple, OMFG, Fixxxer and there are several mentions of Ferrero Rocher!!
It's fun, easy going and now delivers to ME! Hurrah!!