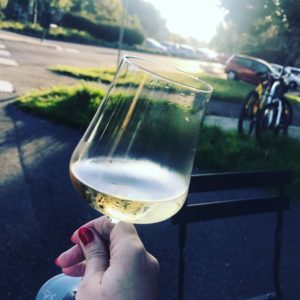 We love a good little Wine Bar and there's a cracker opened in Albert Park, with a great wine list (no surprise) but also fabulous grazing menu and ample outdoor seating for those perfect Summer nights.  The wine list has a healthy focus on local producers and we took advantage of the teams passion to explore some beautiful ones by the glass including a winning Sangiovese.
The food was fantastic, my perfect kind of evening where we slowly worked through little plates of meats and treats until we were full!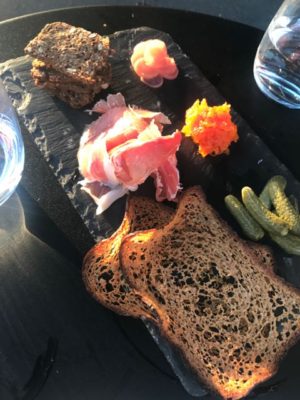 Jamon Serrano, aged 14 months served on a beautiful board with pickled radish and a good amount of crackers to enjoy, what could be better? How about a perfect sunset?! Such a great spot to feel that summer glow!
Nibbles wise, you can get a selection of reasonably priced plates or the chef will feed you for $55 per person.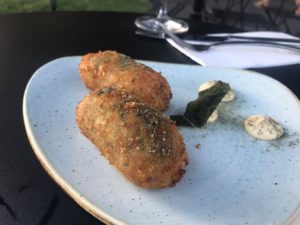 The Croquettes with jamon serrano were perfection, you know those kind of crispy fried nuggets that you want to take a bucket home and eat them ALL!!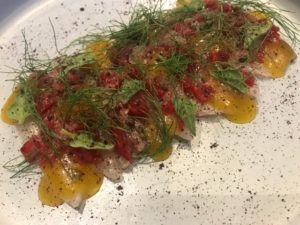 The Kingfish citrus cured with coriander and pickled rhubarb was a good a she looks, so fresh, a little punchy and a dish you just feel great eating.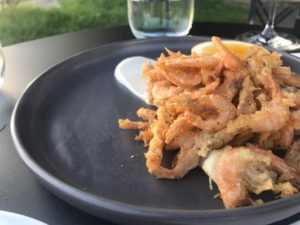 Tempura school prawns with garlic aioli and spiced vinegar salt were addictive little morsels that absolutely hit the spot!
Other dishes that we wanted to try but were getting a little full (code for trynig to not seem greedy!!) The confit duck fettucine with heb and butter sauce WANT! Barbequed cauliflower with fennel and yoghurt YUM! Barramundi with kohlrabi YES!!
But we hold back, get another glass of something and a little more from the delicious meats section!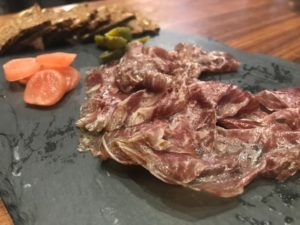 Wafer thin Wagyu Bresaola –  air dried beef with all that delish marbled fat – soooo good!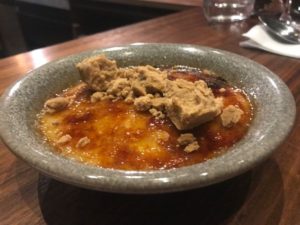 Just to be polite (code for we are greedy!) we ordered the Creme Brulee with orange and vanilla and macadamia shortbread, I'm not a huge dessert fan so this was nice enough… I think I really wanted the cheese board!!
It's a fab place, great team that make you feel at home and a menu that I imagine will evolve seasonally but will always be amazing!