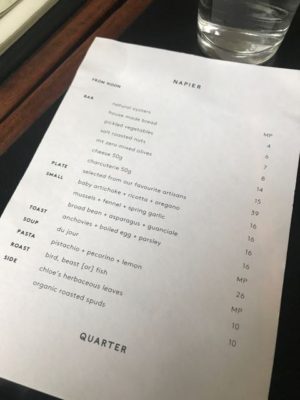 It's a perfect little tapas wine bar style place with space used as efficiently as possible, chalkboard wine lists and a menu that offers enough of a variety to suit almost anyone. Fortunately we really like wine and food so we are up for running the gauntlet of the whole lot if our credit cards and stomachs allow!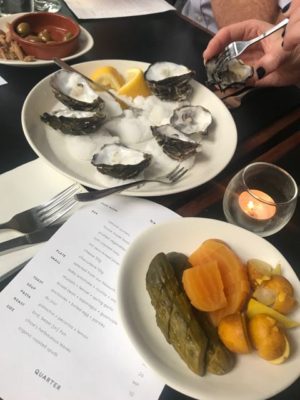 Start with a little oysters, nuts, pickled veggies or some olives partnered with cheese or charcuterie. We went the oysters, so perfect in every way and the pickled veggies – tang-tactic!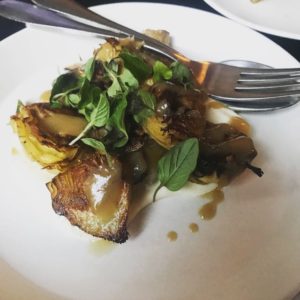 Medium share plates included a delish baby artichokes with ricotta that I could have eaten a whole lot more of….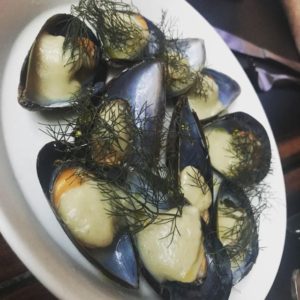 And the mussels – so simple with fennel and spring garlic – so good we ordered another round!!
The anchovies with boiled egg and parsley got a little lost along the ay and there was some pontificating on whether it should be shared, at the end it was a good one to share with friends if you don't mind getting a little messy!!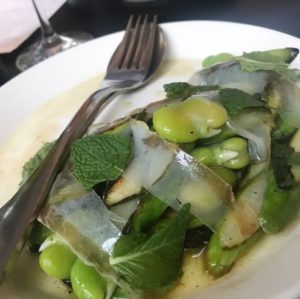 Broad beans with asparagus and guanciale were delightful, spring freshness on a plate.
The perfect pasta with pistachio, pecorino and lemon was devourable and I reminded myself that this sharing lark has it's pros and cons!!
The wines came and went, they were lovely!
It's a really nice place to just stop a while and be!