Tucked away in the back streets of South Melbourne is the cutest little Wine bar! Eastern Road Bar is gorgeous and they love wine just like me! Set under one of the many new developments sprouting up between Kingsway and Clarendon, we just happened to pass by one super fit Sunday morning on our way back from walking around the lake and it looked so good we went home and got changed and headed back out. It is in the shade of the many other buildings but I imagine on a 40 degree day it will be a blessing, they have set it up as a great indoor / outdoor space and there are heaters and blankets if the Spring chill still grabs you.
Menu is on the wall, a delectable list of nibble and plates to share, pizzas are called out with a nice fresh cold beer and you can get plenty of other dishes including chicken ribs, salad, fries, fish nibbles and some bigger dishes.
The wine fridges are stacked with a range of great bottles and you can take home the ones you really love too, we went by the glass with a great Rose from SA, well recommended by our new friend behind the bar and thoroughly enjoyed for several glasses!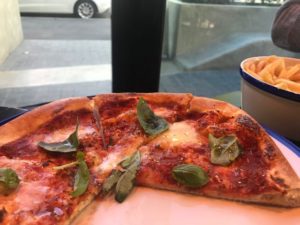 The margerita pizza was good, not the best, not the worst and the slaty shoestring fries were a welcome treat with the crisp wine.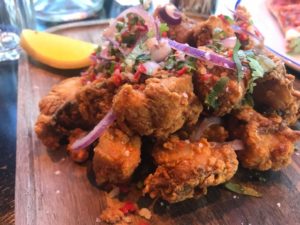 BUT the fish nibbles (trust hubby with the menu and this is what you get!) What an understated dish! A delicate pile of spiced, fried trevally festooned with chilli, garlic, onion and all those great spices that took me straight back to a warm night in Bali and all my favourite flavours, it was sensational!
Another glass, this time a great Verdelho and I've been easily sold on some saganaki and a Greek Salad to top us up – hey at least this late lunch means we don't need to make dinner!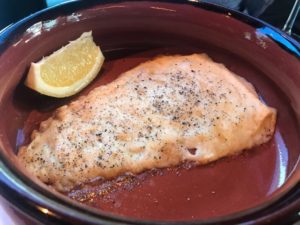 Saganaki was fabulous! Stretchy, squidgy cheese-tasticness!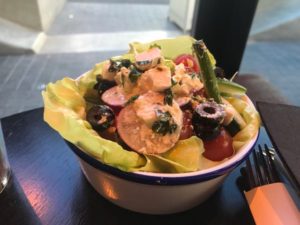 Greek salad, just lovely, fresh, well thought out and put together and I am pretty sure that cancels out the cheese calories, right?!
So pleased we found this little haven, anywhere we can talk wine and eat great food and I am there!!