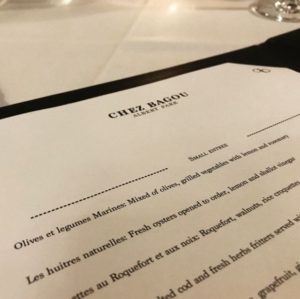 What used to be a favourite Chinese in Albert Park is now a favourite French Bistro! I am generally someone who struggles to order and choose just the one thing off the menu but this was worse than usual, I wanted it all and it got worse as the beautiful plates flew out of the kitchen to their lucky tables, the pork, the steak, the snails!! Bring me it all!! Chez Bagou is a cosy, seductive little spot and with just the two guys looking after us the night we were there they were doing an epic job! Service was entertaining and super lovely, we weren't in a rush and the food was steady out of the kitchen.  The menu – foodgasmic!!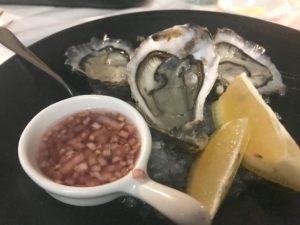 Start with a little something, perhaps olives, fresh oysters, croquettes or tartare? Choices, choices!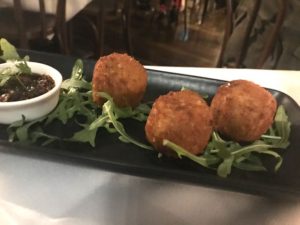 We went with the 'Croquettes au Roquefort et aux noix' with Roquefort, walnuts and fig chutney – Out of this world, the funky cheese oozing through rice and nuts – heaven!!
But there's more, perhaps Traditional French onion soup or salmon terrine or mussels or scallops or beef tartare?! So many good choices!!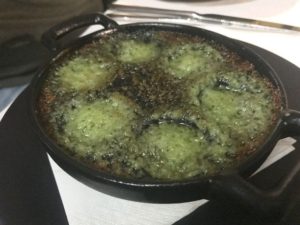 We went for 'Les escargots' 6 snails in their rustic iron holders – delicious little critters cooked in parsley and garlic butter – just missing the bread to scoop up the rest of that garlic loveliness.
Mains are on another level and not overly expensive, just imagine yourself with Boeuf bourguignon, a beautiful beef cheek slow cooked in red wine with mushrooms, bacon, carrots and kipfler potatoes. Or Confit lamb  with a herb crust, parsnip puree and roasted cherry tomatoes…. Or 'Canard confit' a delectable confit duck leg with pommes dauphines and sauted mushrooms…..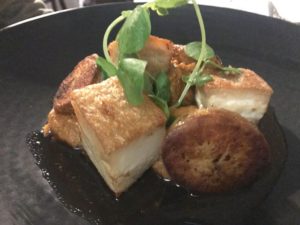 Hubby went the 'Poitrine de porc' Crispy pork belly with smokey eggplant caviar, confit chat potatoes and a silky rosemary jus, the pork was beautifully cooked. The eggplant a great friend on the plate and the chat potatoes delish!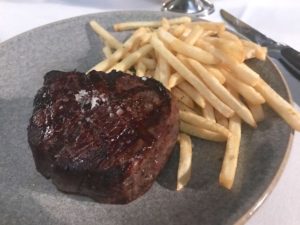 I couldn't go past the 'Le filet de boeuf' a Grass fed Gippsland eye fillet 250 grams of melt in the mouth pink meat with strong fries or 'frites' and a really good pepper sauce – exquisite! And because frites wasn't enough we had to go a cheeky little side of mash and it was possibly the best steak I have ever had.  There was supposed to be some sharing going one, the steak beat the pork hands down, I eventually admitted defeat I was too full to finish and handed it over but don't tell hubby I was totally planning on eating it all – Soooo good!!
There wasn't room for dessert, I am sure they would be epic! But it's all ok we can come back another day!
C'est Magnifique!