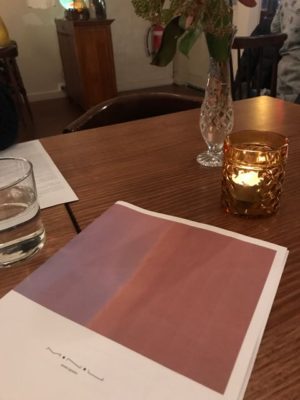 Monou is our slightly fancy new Japanese on Park Street, with the owners already doing a great job with Kuu and everyday Japanese 'street food' this was a chance for the owners to do something more in a fabulous fusion of traditional meets new.  It's a lovely fit out, very homely and a little eclectic, the book collection on the wall will catch your eye a few times!  There is no gyoza or spring rolls in sight, the menu is interesting with familiar favourites like sashimi and yakitori but then out of no where there is fried gnocchi or bocconcini with tomatoes and pine nuts!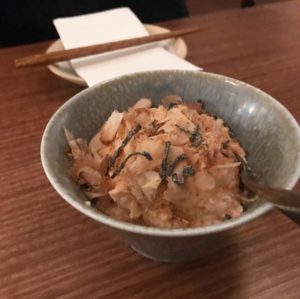 Our first dish was the Potato salad with shio-kombu, takuan, shibazuke, bonito flakes – I will be honest, I am not sure what half of those are!! But Google says;
Shio-kombu – strips of kombu that have been boiled in soy sauce and other ingredients, dried and then cut into pieces
Takuan – is pickled daikon radish
Shibazuke – is a popular pickle originated in Kyoto. These salty and slightly sour pickles have beautiful natural purple color
Used to traditional German 'Kartoffelsalat' (my German is better than my Japanese!) this was delish, the pickles gave the right bite with the mayo, maybe a little odd as a dish on it's own but that's my German roots demanding meat and sides!! It would have been fab with the chicken yakitori though!!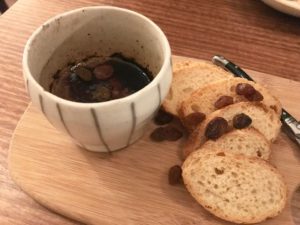 The 'Chicken liver paste brûlée was odd in a wonderful way, to quote hubby 'It's weirdly awesome!' the usual rich, creamy decadent chicken liver pate is flavoured lightly with vanilla and topped with a crispy sweet brûlée that really works!! Could have eaten that alllll night!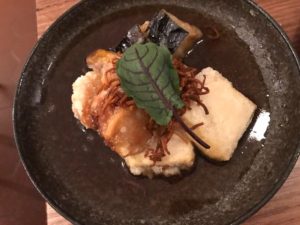 The Agadashi tofu with eggplant, sweet potato cakes and asparagus in dashi broth drizzled with truffle oil was delish, always happy to try a little tofu, it gets a bad reputation sometimes! The sweet potato cakes / dumplings were epic! Sell those with some Kewpie please!! The tofu was really nice, there was a jelly type outer that looked strange but wasn't unpleasant to eat and there wasn't a lot of the truffle oil which might have ruined the flavour profile already happening.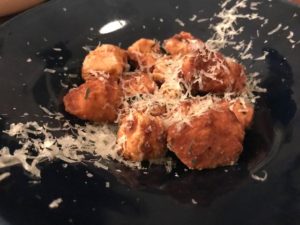 So – Fried Gnocchi? Different!! The house made gnocchi with gyokuro tea flake sprinkles and parmesan is super crunchy and probably needed a little sauce or again some friends to play with in the mix.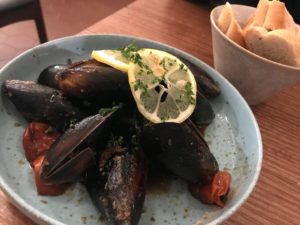 The Sakamushi Mussels – sake-steamed garlic mussels with baguette, was the dish I was looking forward to but it wasn't quite as expected, the broth was quite dense and the baguette a bit too dry and didn't make for the best dipping! The mussels weren't the plump sake drunk mussels I was expecting, they had kind of disintegrated.  Not sure what happened there.  If I was being super picky too there were two unopened on a plate of 12.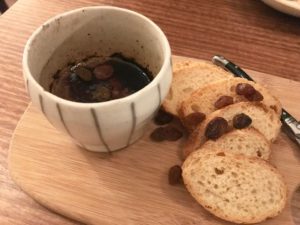 The yakitoti – Tsukune with a fresh yolk was amazing, big bulbous mixed chicken and herbs and a rick yolk dipper. Lovely presentation with the leaves and twigs, infact there was an obvious focus on the presentation of all of the dishes we saw.
Overall was lovely, and we would go again, the bill wasn't a shocker with a bottle of wine added in too so that's always a plus.