The George Hotel is a great spot to sit in the sun and grab breakie or some pub grub on your way to and from South Melbourne Market.  Sometimes the food is a bit hit and miss but perhaps there is a new sheriff in the kitchen as Fridays lunch was a definite hit!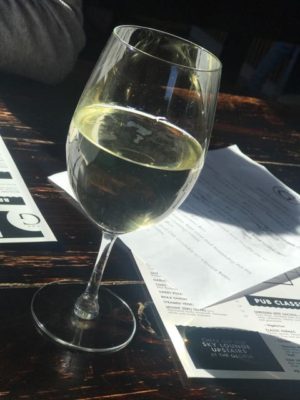 The menu isn't trying to be anything fancy, it's good food done well, grab a burger and they have plenty to choose from, or enjoy a parma, pie, salad or open top sandwich. The burgers from the 'House of Hanover' are all monachy themed with a King George I or II available, one or two beef patties please! The Queen Vic has spiach and blue cheese, the Prince Edward is a spicy little number and the Price William is a chicken….. I like what they have done there!! Further fun cvan be had a cross a well priced steak,  nachos, fish and chips and there are a decent number of snacks and nibbles to keep you going.  They also serve Wine by the small or large glass….. ?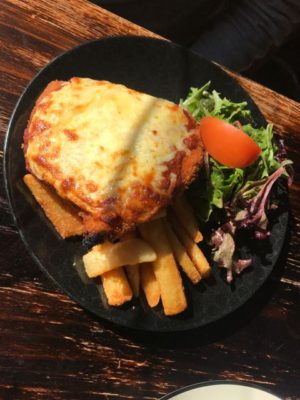 Hubby went for a traditional chicken parma, it was damn good! Thick white juicy chicken with a great crumb, tasty tomato topping and ample well browned cheese – happy days!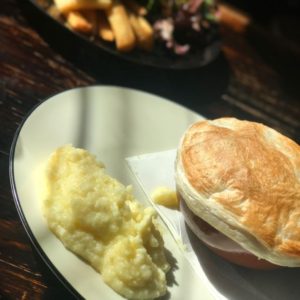 I went for the pie special and it was gorgeous, tender steak and rosemary with veggies in a thick gravy, good size puff pastry topper and a nice dollop of buttery mash!
The atmosphere was great, service nice and all round it was a great way to spend a Friday lunch time.
As I am always on the hunt for a Tight Arse Tuesday,  The George has a few good ones to look out for;
Tuesday – $22 Parma and Pint
Wednesday – $24 Steak & wine
Thursday – $22 Fish n Chips and pint
Definitely worth a go!