Isshin Izakaya is a really great Japanese, no frills just all of your favourites done really well. The menu is extensive and then on top of that there are great lunch specials AND an All You Can Eat every night for just $39.95…. hmmmm how much could I eat?
So when I say the menu is extensive – check out the appetisers and grill….
MISO SOUP
EDAMAME
RENKON
AGEDASHI TOFU
KARA AGE CHICKEN
VEGETABLE CROQUETTE
VEGETABLE SPRING ROLL
PRAWN SPRING ROLL
PORK TONKATSU
VEGETABLE TEMPURA
PRAWN & VEGETABLE TEMPURA
PORK BUN
MUSHROOM BUN
SEAWEED SALAD
GREEN SALAD
SEAFOOD SALAD
SASHIMI SALAD
SPICY TUNA TARTAR
BEEF TATAKI
KINGFISH WITH YUZU
SOFTSHELL CRAB SOBA SALAD
GYOZA
YAKITORI
SQUID SKEWEL
PRAWN SKEWEL
OKONOMIYAKI
GYUMAKI
KINGFISH KAMA
Seriously!! And most of them barely break the $10 mark! You then get onto the sushi, sushimi and bento territory and it is all rocking!
Lunch times offer a smaller selection but series of bento boxes with a little of everything with the chicken set just $15.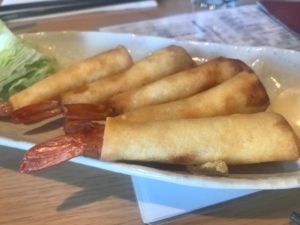 But first the ultimate test…. The prawn spring roll…………. OHHHH it was sooo good!! I would have eaten them all but I was trying to behave!! And if I had I would have been in trouble as I couldn't even finish the delish chicken bento.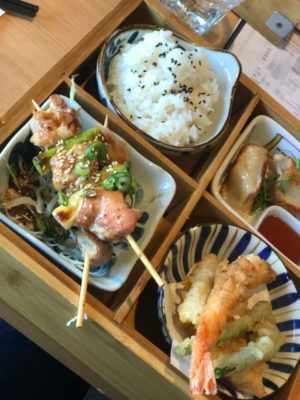 The best meals are those where you can try a little of everything! A little tempura – amazing, a little yakitori – fabulous, a little gyoza – THE BEST EVER!!, a little miso soup – always and then a little rice to it all off – big smiles and full bellies – what more could you ask for?
Just typing away my mouth is watering…. Ooooooooooooooooohhhh they deliver!! ?