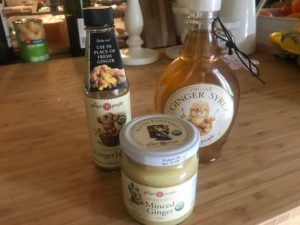 When the guys from The Ginger People offered to send me some products to try I wasn't sure what to expect but we had heaps of gingery fun!! Cocktails, baking and a zingy ginger stir fry.
The ginger syrup and juice were perfect for a Caramalised Apple and Ginger slice, also called 'How to make everyone at work love you!'. Really simple and perfect to use both the ginger juice – how convenient and the ginger syrup is perfect for this recipe.
Recipe: Caramalised Apple and Ginger Slice
Ingredients;
Base;
170g unsalted butter
1½ cups plain flour
1 tsp baking powder
½ cup sugar
1 tbsp ginger juice
Caramel Topping;
55g butter
4 tbsp sugar
1 1/2 tbsp ginger syrup
Apple Topping;
6 apples peeled, cored and cubed
1 tsp of cinnamon
1tbsp ginger juice
1. Cream the butter and sugar together in a mixer or with a wooden spoon. Add the flour, baking powder and ginger juice together and mix until combined.
2. Pre heat oven to 180 degrees and line a glass baking tray with baking paper and press base mix into tray and cook for 25-30 minutes.
3. Put apple topping in a pan and heat slowly for 20 mins until soft.
4. When base is ready take out of the oven and melt together the topping ingredients in a pan. Layer softened apples onto the base and then pour over the Caramel topping and leave to set in the fridge
5. Cut into generous slices and tell everyone it's totally healthy with all that lovely fruit and ginger!!
What would go great with dessert – a cocktail! We made a delicious Pear and Ginger Fizz!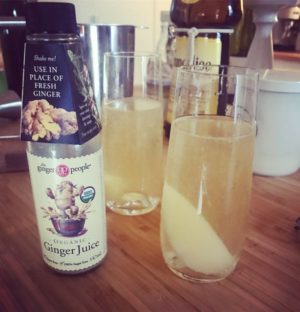 Ingredients for two generous cocktails;
50mls Pear Juice, 50mls Frangelico, 50mls Ginger Juice
Half fill your cocktail shaker with ice and pour in the ingredients, shake until chilled and then pour over a pear slice and then top up with your favourite fizz!
Drink . enjoy . repeat!
With so much Ginger loveliness we just kept on going!
Ginger Chicken Stir Fry
Serves 2
Ingredients;
1 garlic clove crushed
1 red pepper sliced
1 red onion sliced
3 spring onions sliced
Handful of snow peas sliced
2 carrots sliced thinly or mandolin (use the guard :-))
1 large chicken breast diced to 2cm chunks
1 tbls of Ginger Juice
1/2 cup of browned unsalted cashews
2 leaves of silver beet or green leafy veg – sliced up
Cook your garlic in a touch of oil and then add onions for 1 minute, then add chicken and cook for 5 mins stirring constantly, then add peppers and snow peas for 2 minutes. Add in the carrots for another 2 minutes and add in the ginger juice and silver beet. Once the silver beet has wilted as the spring onions and cashews for 2 minutes and then serve with some yummy fluffy white rice.
Enjoy!!
We loved working with The Ginger People products and they will be in our pantry as a standard going forward! I don't think I realised how much I loved ginger until now!
Find out more about The Ginger People here