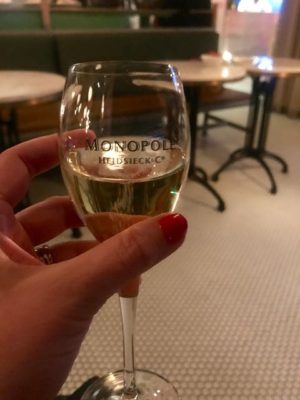 Very spoilt Foodie tonight! All my French favourites are being served at Garçon and it's c'est magnifique! We started off with Coffin Bay Oysters, perfectly shucked and served with a cherry vinegar dressing – tres bon!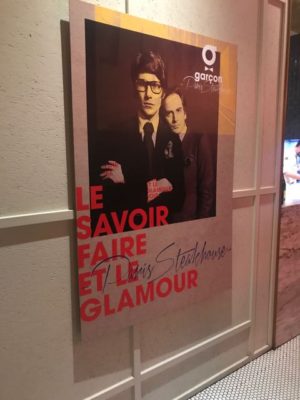 The Garçon Croquettes with spiced beef and a mortared Provincial sauce were outstanding, I could eat a big bowl of those with the lovely bubbles and be a happy little foodie. We moved up to the main dining room for the rest of this fabulous feast, the space is lovely with a traditional with a little modern edge.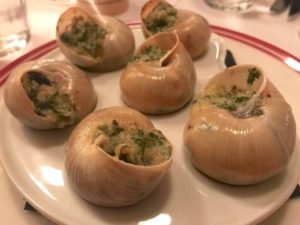 Escargots du Bourgogne with herb, parsley and garlic butter Oh the Snails!! I love, not everyone does but anything slathered in that much garlic gets my vote!!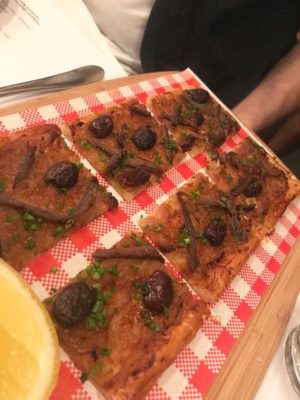 Pissaladiere – onion, anchovies and olive tart Yummo!! Soft gorgeous base with those salty little fishes and softened onions – perfection!!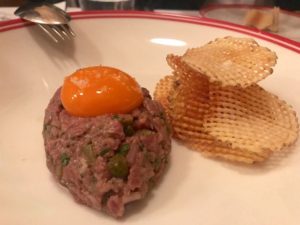 Garçon steak tartare with waffle chips – it's not a dish I automatically go for but this was beautiful, mix in the egg with some hot sauce and those crispy little chips – converted!!!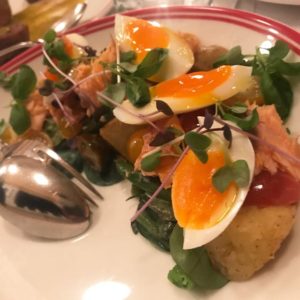 Salad Niçoise with warm hot-smoked salmon – just beautiful, if I could have this for lunch everyday beautiful soft bright yolk eggs, potatoes, beans, black olives….. healthy and delish!
Moving on to the meat section!! Seriously!!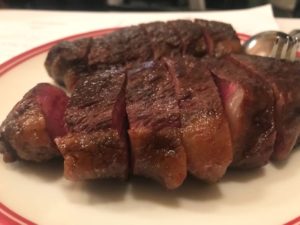 Wagyu rump or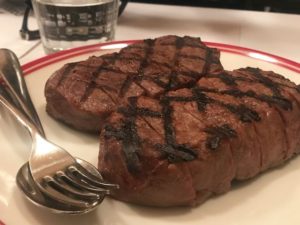 Angus Porterhouse – why choose just have both!!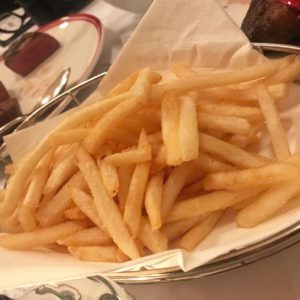 Just add frites, a Cafe be Paris butter and a great soft leaf salad with lightly pickled onions and that is the dinner of champions! Steaks so good they make me want to swear! Sensational meats and love those salty frites.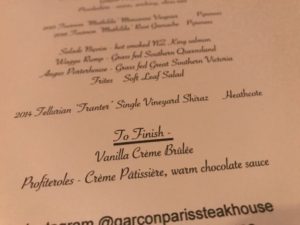 Does it get any better? Well desserts are coming!!
Vanilla crème brûlée super thin crunch on top and then the lightest custard underneath, delicate and elegant!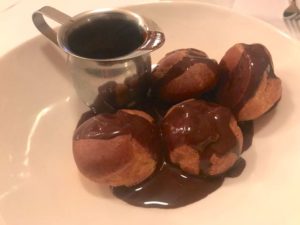 And the Finale profiteroles with crème pâtissière – WOW!!! Pour over a little… well a lot of chocolate sauce and those pillowy soft choux buns will rock your world!!
It was a sensational evening and we can't stop telling everyone where to head for their next great dinner!
See the full menu here