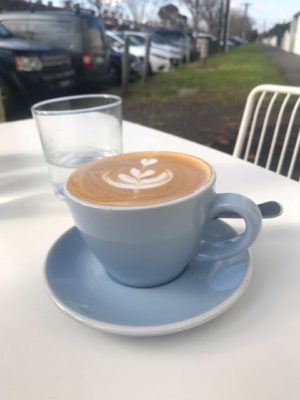 New kid on the block, there have been a through incarnations at Lenny's new home but I think this one is here to stay, with sunny smiles and a cool new fit out we loved hanging out with Lenny for brunch. The menu was a plethora of choices from the familiar to the more exotic and I was stuck negotiating with myself what would be the best! The bahn mi breakfast roll sounded so good with a fried egg, bacon, yellow cheese, Kewpie mayo, house made bbq sauce, and pickles. Or the Chilli scrambled eggs with Sriracha chilli, bacon, scallions, parsley, parmesan and toast YUM!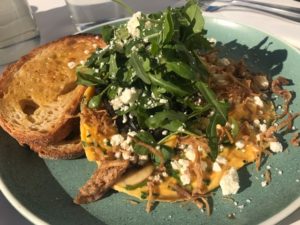 I am a sucker for mushrooms and the omelette sounded just right to me with swiss brown, enoki, truffle hazelnut, shaved manchego and lovely buttery toast. It was all that and so much more, I loved it, mushrooms cooked perfectly to avoid that wateriness, mix of mushies for great flavour, cheese and rocket – it was positively good for me!!
I am sure the Tiramisu Ricotta hotcakes are immense with chocolate espresso sauce, fresh berries and pistachio crumb WOWSERS!! Green Breaky Bowl sounds fab with raw seasonal greens and herbs, roasted pepitas and almonds, avocado, chilli, buckwheat, crispy halloumi, honey dressing AND a poached egg! Brazilian Beans come with tomato sugo, slow cooked beans, herb pangrattato, chipotle labna and a poached egg…. Plus add chorizo if you like – who wouldn't like!!
There is some pretty lovely coffee brewing and sitting back in the winter sun I was pretty happy, still working with hubby on what he should choose so I can eat it!! Duck and waffles…. Get out!! Slow cooked duck leg, herb and cheese waffle, apple salad, juniper infused maple and fried egg. Superfood salad with black quinoa, shredded kale, puffed wild rice, charred corn, turtle beans, cherry tomatoes, jalapeños, goji berries, ricotta salata, coriander, spicy dressing.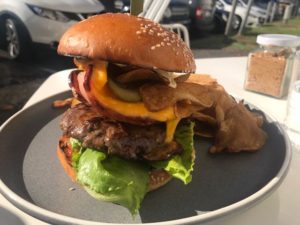 For bigger dishes how about the 16hr braised beef cheek with rendang sauce, brown rice and bean salad with a lemongrass and lime leaf dressing? Or a pumpkin hummus bowl with lamb kofta, pickled & roasted vegetables, toasted pine nuts, pomegranate seeds and green harissa. But we had to try the Lenny Burger with wagyu beef, yellow cheese, bacon, tomato relish, aioli, pickled cucumber, baby cos lettuce and house potato crisps. The burger was good, nice cheese, sauce and not too much salad, didn't love the potato chips but all in all a success!
It was another happy Foodie Friday, see you soon Lenny!