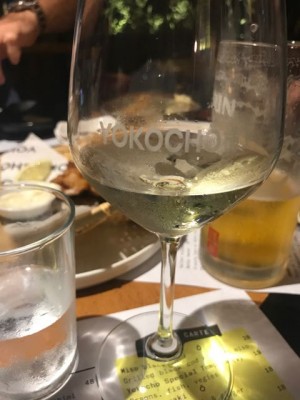 Thanks for a generous foodie invite from the team at Yokocho, a new friendly spot over looking Bourke Street. On a balmy Autumn night it's still nice to sit out on the balcony and chow down on some fantastic Japanese. Even for a Sunday night it's pretty busy and there tables packed with happy faces and plates of sushi, yakatori and there is a delicious aroma of Japanese curry wafting through.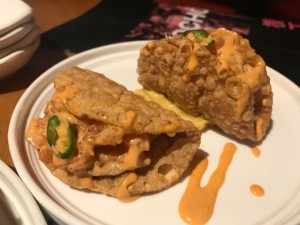 It's hard not to order one of everything, it all sounds so good and made to share so you can enjoy a bit of everything. We started with the Spicy Tacos, beautiful fresh salmon with a decent spicy sauce and a super crispy taco – delish!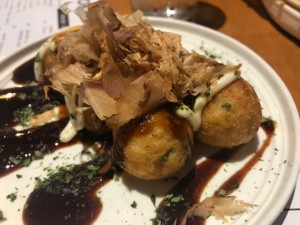 Fluffy takoyaki octopus balls with tangy sauce and heaps of benito flakes, love love love.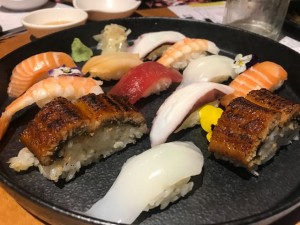 Sashimi platter with prawn, eel, tuna and octopus, perfectly fresh and perfectly pretty!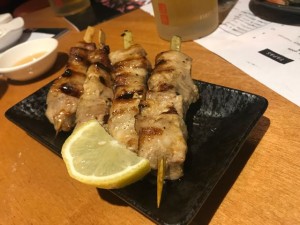 Chicken and pork yakatori sticks, succulent and packed full of flavour.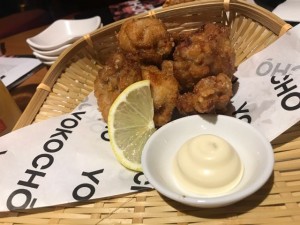 Chicken karaage was a basket of gorgeous chicken thigh nuggets with thick lovely kewpie.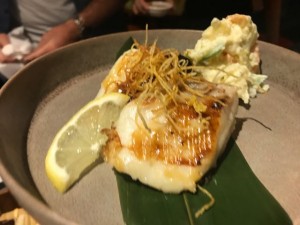 Miso Black Cod, generous portion, beautifully prepared and a winner potato salad on the side that seemed a little odd with the fish but was so good I am still craving it this morning.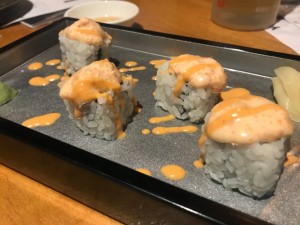 Lobster sushi roll, perfectly little rolls with yummy lobster and tangy sauce.
Tempura prawn sushi roll, the last dish that is so good you keep eating even though you are so full!! All in all it was a great meal, service was super lovely, food was delicious and we left very happy and very stuffed!! Thanks guys we will see you soon.