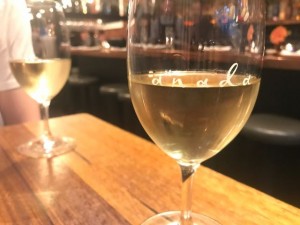 One of the best meals I have had in a long time, everything from the setting, the team, the menu and the wine list – PERFECT!! I can't believe this little Spanish tapas joint has been here for 10 years and I have only just found it. Searching for a little place for a birthday dinner before a band at the Workers Club, this was a great location, just a short walk down and near the Everleigh for cocktails too! It's small and intimate, maybe 30 seats tops and it's steady service with a smile and a menu that can stretch even an adventurous palate with smoked ducks hearts and pigs trotter bikinis…. Honest!
Sharing is caring and it means you get a little bite of everything, so you can order lots more!! There are a lot of dishes to choose from and the team will guide you dependant on how hungry you are and the 'not to miss' dishes. Little bites of olives, almonds and oysters were tempting but I was all about the jamon!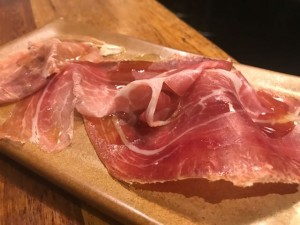 The 'Joselito jamon Iberico Gran Reserva, acorn fed jamon, 36 months' was phenominal! Beautiful wafer thin and dangerously delicious!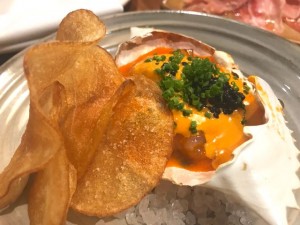 The Blue swimmer crab with piquillo peppers and potato crisps was beautiful, delicately presented in the shell and sensational flavours, I could eat a whole lot more of that one.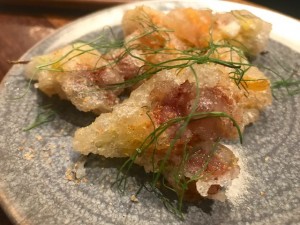 The fried nasturtium buds with harissa salt and queso do pais (mild cheese like a feta) were really tasty, a little greasy but very moreish.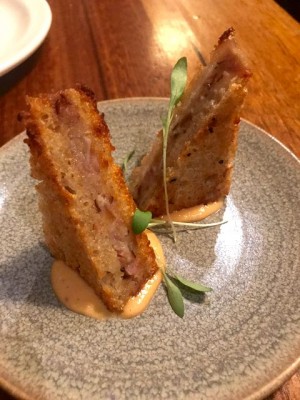 So – they have on the menu 'Pig trotter bikini w prawn bisque' I was intrigued, was it an awkward spelling mistake? Do Pigs wear bikini's? Or have I missed, in my limited exposure to Spanish vocab, that a 'bikini' is a toastie!! A Toasted sandwich! The triangle cut that represents the bikini bottom!! How funny and how bloody delish! The ridiculously rich bisque to dip in and the buttered bikini stuffed with hammy trotter meat! Winner, Winner, Piggy dinner.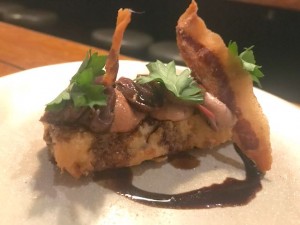 But why stop there, how about 'Smoked duck heart torrija with guanciale and fig glaze'! Not as confronting as it sounds, it was like a very lovely open finger sandwich of Spanish style French toast, the little heart carried along with the amazing guanciale – pig cheek bacon and decadently sweet fig……. soooooo goood!!!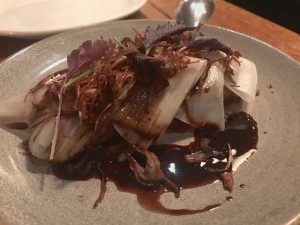 The 'Rabbit & tarragon canelon with mustard greens and amontillado jus' was divine, a roll of rabbit with fig and leek 'pasta canelon' and rich wine jus….. heaven!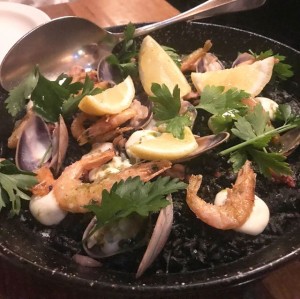 The finale 'Arroz negro Paella, calamari, prawns, mussels, trivially, ink' A devilishly black squid in paella with crispy school prawns, plump mussels and squid, it was dish were you were getting pretty full but somehow you find space because it is just too good a dish to leave a single grain behind!
I can't say enough nice things about this dinner, the wine list was reasonable and diverse, the wine recommendations were also excellent and not just a dodgy upsell like so many places seem to adopt. We had a near perfect dinner and the bill didn't hurt one little bit!!!