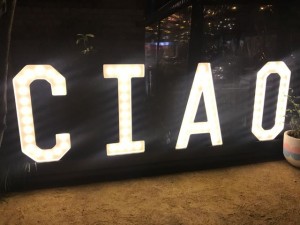 Hubby and I have always enjoyed Date Night at Ciao Cielo's old location that was a little intimate spot on Bay Street. Now the old Court House, come garden centre, come tapas place is now rocking a massive make over with not only a cantina but a cucina. All bases are covered whether you are looking for a casual night with pizza and spritz in the colourful cantina or fairy light lit all weather indoor garden. Or cosy up in near the fireplace in the cucina for some traditional Italian feasting. Foodie About Town were lucky enough to be invited to a special preview and we can't wait to get back there!!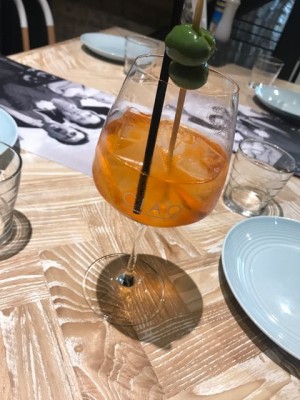 We started off in the Cantina, it was a cold, dark night but once you stepped inside the all weather garden you wouldn't know! Fairy lights, heaters, astro turf and smiles a-plenty, we were soon settled with a spritz and a sneaky taste of the super thin pizzas that will be on offer. Classic margherita wood fired pizza with super thin crust, fresh basil, melted mozzarella and it rocked my world!! I could have just curled up with that for the rest of the night!!
Foodie 2 said – Delicious thin base, with the perfect amount of smoky charcoal taste from the woodfired oven. A classic done very well.
We also tried the 'Farinata' – wood fired chickpea bread with pesto Amazing!!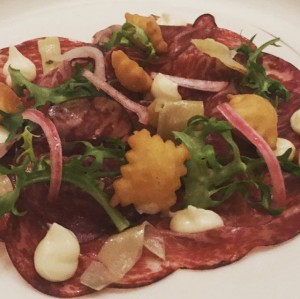 A few spritz's later we were welcomed into the main dining area ready for a crazy generous feast! Antipasti offered wafer thin wagyu bresaola with artichoke, endive, horseradish and the cutest gnocchi fritti…… HEAVEN!!!
Foodie 2 said – Melt in your mouth cured meat, coupled with fluffy pillows of potato and other delicious accompaniments.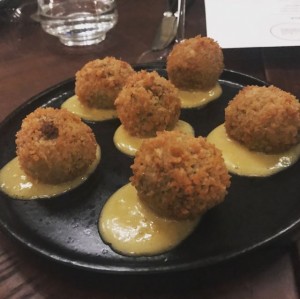 I am a sucker for arancini or 'supplì' and the confit spiced duck didn't disappoint!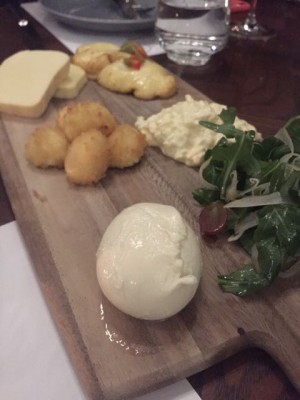 'Mozzarella & Bits Board' – WOW – this is only the pre-entree and we are so spoilt, mozzarella 5 ways! Smoked, traditional ball, melted, fired ball and creamed (for want of a better word – to was like cottage cheeses but the best ever!!). I will take cheese over dessert any day but this way to can start with one favourite and still end with a sweet treat.
Foodie 2 said – You can't go wrong with a board full of cheese!
Entrée alert!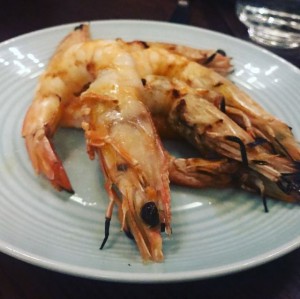 WOW – Spencer Gulf King Prawn risotto made with bisque and marjoram gremolata, big meaty grilled prawns with a super creamy risotto…. another of my weaknesses!! Delivery please!?
Foodie 2 said – The smokiness of the prawn heads filled the room, making the next course intriguing. Extremely happy with a creamy risotto topped with charcoaled prawns from the pizza oven
Whole rainbow trout with pancetta, thyme, lemon and olive oil served 'en papillote', it was quickly dismantled before a picture could capture it's glory!!
Foodie 2 said – Simply made and simply served. Very well cooked.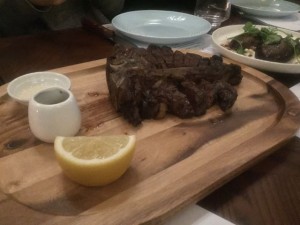 Moving onto more feasting dishes, the 'Bistecca alla Fiorentina' – Little Joes Grass Fed 1kg T-Bone! Served sliced for sharing with the bone so you can appreciate the whole cut, it was sensational!!
Foodie 2 said – Tender beef cooked to perfection. Just wanted more of it!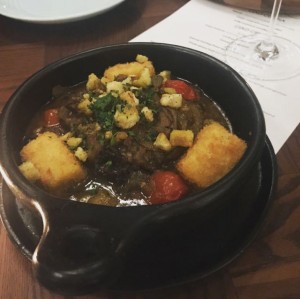 Sardinian style goat leg with wild olives, fennel, lemon, chilli, marjoram and polenta dumplings – oh those dumplings! I wanted a whole bowl of them! The goat was fall apart juicy gorgeousness and packed full of Italiano flavours – Bellissimo!
Foodie 2 said – Slow cooked, with a rich gravy and flavoured with all the good stuff – olives, fennel and lemon. This one definitely took me back to Italy.
'Pangrattato Fagiolini' – braised green beans, tomato and garlic AKA the sexiest green beans in town!
Side two – the Wood roasted sage mushrooms with goats curd and puffed wild rice…. not sure these made it to our end of the table before they were snaffled!! Sharing with strangers!
Oh and then there was dessert!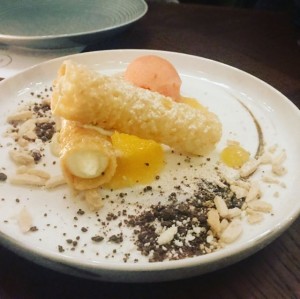 The ricotta filled cannoli with fennel almond crumb and blood orange sorbetto, chocolate snow and candied almonds was everything, I would take a box of those cannoli home and just over indulge with a good coffee!
Foodie 2 said – Generous serve of cannoli for the whole table. I could have had another 1…or 5!
Nonna's Tiramisu was served old school with a dollop from the big bowl, I think everyone would have licked that spoon… bowl…. plate …. ! It was sensational.
Foodie 2 said – Just delicious. A true favourite of mine. Perfect ratio of coffee and mascarpone.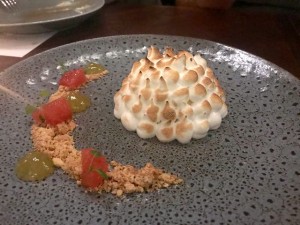 But then there was the 'Amaretto bomb' – Amaretto gelato with an orange centre, Italian meringue, citrus and the fragrant waft of delicious amaretti…… oh heavenly dessert!!
Foodie 2 said – Another beautiful finish to the night with a rich amaretti cake and fluffy meringue. Yum!
We had the best time, we are very spoilt and thoroughly appreciated the sneak peak into what will be a fabulous haunt on Bay Street going forward.