What a treat to be invited to an evening at Chameleon Junction. Opening for breakfast and lunch last year, and now adding dinner across 7 days with opening until 11pm, this classy joint is set to shake up the South.
We were given generous tasting serves of a selection of menu items with matched wines, and loved them all.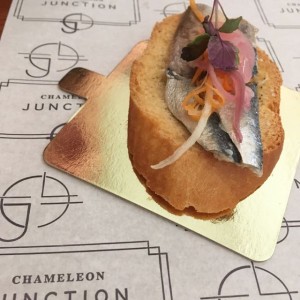 The opener, Sardine with Pickled Veg on Crostini was light and fresh, with just the right amount of saltiness for the matched Printhe Riesling.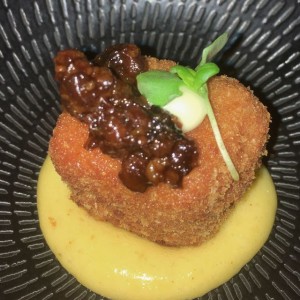 Then an oozy Mac n Cheese Croquette on Hollandaise with a taster of their nicely spicy house Bacon Jam was as delicious as it sounds. This was perfectly matched with a delicate Italian Pinot Grigio. Last from the "Smaller" plates was an authentically Middle Eastern flavoured Lamb Kofta, served with a beautiful citrus Cous Cous, an interesting mix of small and pearl grains, and a swirl of Raita. This dish was matched with an Italian Rosé. Wow, very impressed so far with the quality and variety.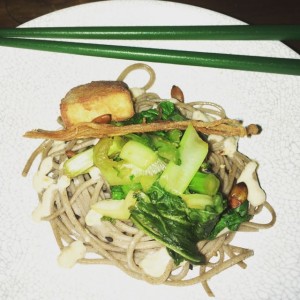 Next we were treated to a couple of taster serves from the "Bigger" menu items. Normally shying away from vegetarian meals, I found the Sesame Soba Noodles with Greens and Fried Tofu sensational. It was savoury and complex, as was the Helen's Hill Arneis that accompanied it. I heard myself say I'd order that as a main next time.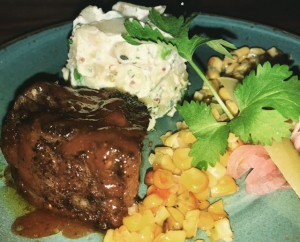 But then came the new fave, the BBQ Beef Rib, with Potato Salad and Corn Salsa, alongside an Italian Sangiovese. Oh my! Perfectly slow cooked beef with no annoying bone, gristle or fat, drizzled with BBQ sauce, just melted in the mouth. The vibrant flavours in each element of this dish had me convinced everything had been lovingly created from scratch.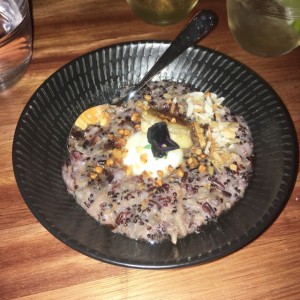 Feeling rather full now as we moved onto sweeter things. The first was their Black Porridge, a mix of grains, coconut, nut granola, topped with some caramelised banana and coconut yoghurt. Served warm, this comforter should be a go-to guilt free brekkie for the colder months. Mind you, our match this evening wasn't coffee but Frangelico and lime on ice!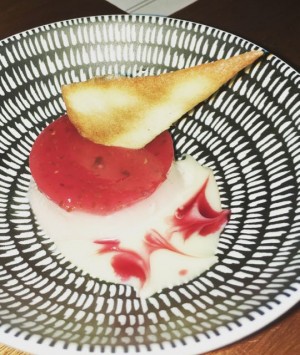 Finally, a visual as well as tasty delight in the form of Panna Cotta topped with Raspberry Jam, with a dash of White Chocolate Sauce and a shard of home made short biscuit, along with a Tim Adams Botrytis Reisling. The Panna Cotta may not be on the menu proper yet but it should be; I've heard it's easy to make but often the texture is not so appealing. This is the best I've tasted.
Warm welcomes on arrival and smiles throughout from host Harriet and the rest of the team. Head chef, Tinka, visible in the semi open kitchen, lets the food do the talking. Chameleon Junction's atmosphere is relaxed and inviting but also polished and professional, a very welcome addition for those of us located south of the river. And being directly across the road from Moorabbin Station means anyone can join in and there's no need to drive. A glimpse of the menu proper reveals reasonable prices for both food and drinks and the icing on the cake is their commitment to environmental responsibility; from their use of eco friendly products to sustainable ingredients. We love profit with purpose and hope this venue thrives.