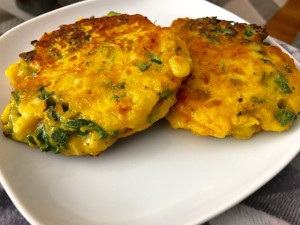 On cold winter mornings when you don't want to leave the house for breakie these little beauties will make you smile! With the goodness of kale and pumpkin and corn and a really simple batter that you can substitute with Gluten Free Flour 1 for 1.
(Makes 4 fritters)
Ingredients;

One Egg
1 cup flour (GF Flour also works)
1 Cup Milk
S&P
200g Cooked Pumpkin Mashed
1 leaf of Kale off stem and shredded
1 Cup of cooked corn
1/4 tsp of cumin
1/4 tsp of coriander
1/4 tsp of numeric
Method:
Allow the pumpkin and corn to cool slightly, whisk together eggs, flour, milk and spices.
Incorporate all of the veggies with the batter and mix really well.
Heat a small amount of EVOO or Coconut oil in a pan, drop a touch of batter in the pan to check it's all nice and hot and you should get a good sizzle. Measure out the batter mixture in 1/4 cup and pour into the pan in four seperate patties.
Allow to brown completely on one side, approx. 5 mins and then turn gently and then brown the other side for 3-4 minutes.
Serve as they are or add sour cream, smoked salmon, poached eggs – go for it!!
Enjoy!