Lola Berry brings us 'Foods to make you glow' – that's Glow not Grow!!!! Important to not get the wrong one!! It's a beautiful new book from the queen of fresh and healthy and it is jam packed with great ideas to make your day filled with food that apparently will make me glow, not grow!!! (That joke never gets tired!!)
Foodie About Town used to cook from a different cookbook each month, for one year we did one every week! But it's been a while and Lola has got me back into poring over lovely recipes and planning the weeks breakies, snacks and lunches and even hubby is jumping in a whipping up a fab dish or two!
Recipe 1 – Trail Mix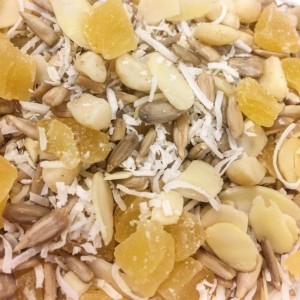 Ok – not really cooking but a bloody good idea, rather than grabbing rice crackers or sushi rolls have a bag of nibbles to enjoy and get you through the 3pm slump. Packed with nuts, seeds and dried pineapple that I am now addicted too it is a winner!
Recipe 2 – Salmon with Quinoa and green Veggies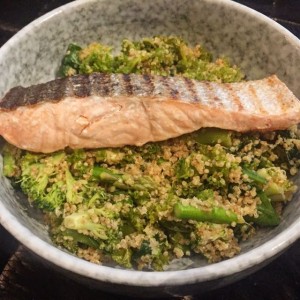 Hubby was home long before me, all ingredients on hand and recipe book left conveniently open on the page, it was all made by the time I got home. This veggie quinoa mix with a zingy lemon dressing could be my new go too. Packed with broccoli, kale, asparagus and spinach I could eat this regularly and change up the protein and carbs, I reckon I could smash it with some rare beef and brown rice too. It reminded me of the Miss Chu wild rice bowls that they do. Hubby smashed the salmon with crispy skin and rosey pink flaking flash – where has he been hiding all my life…. Possibly the words "Get out of my kitchen" have something to do with it! Either way he smashed that recipe out of the park, let's see what we can get him onto next!!
Recipe 3 – Chicken Caeser Salad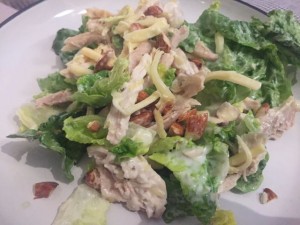 The quicker and healthiest Caeser's in town! You can have this ready to go in 10 minutes (if you have the chicken ready) and there is no heavy dressing so it's light and totally good for you!!