It is THE place to be for family friendly gathering on a Sunday lunchtime! We wondered in at 12 ish and laughed that we had been recommended to make a booking but within 60 minutes there isn't a spare seat to be had across the bar and bistro areas. There is a really nice buzz to the place and lots of happy tables celebrating with family and friends and some really nice food!
Apparently it used to be quite a different place but the new Grosvenor Hotel has set themselves up for success with pokies at the back, bistro and separate bar area and a great open kitchen in the middle with a prime view of the lovely thin crusts being rolled and topped and an impressive line up of sausage! AND don't forget the massive meat fridge when you walk in – packed with big hunks or gorgeous meat waiting to be carved into mouth watering steaks.
The menu is reasonable, pizzas and parmas around the $20 mark, good kiddie winks options, some nice sounding share pieces and plenty of steaks in all shapes and sizes. There is something for everyone at the Grosvenor.
We had a table in the sunny atrium behind the bar and it was a great spot, we selected a little tipple of the impressive wine list and then started the debate of what to pick. Good to note pizzas and burgers have gluten free options at no extra cost.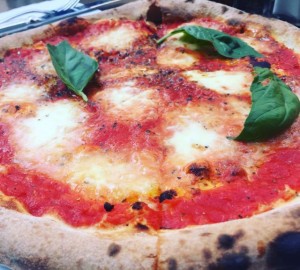 Hubby and I went for a pizza and burger share option to get the best of both worlds. Keeping it simple, the margerita pizza with wonderfully thin crust, ideal spread of tomato and expertly melted mozzerella with a touch of fresh basil – perfect in everyway!!!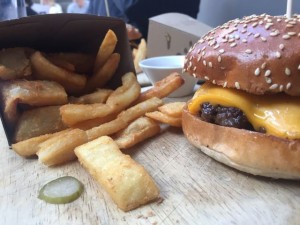 Cheeseburger was equally divine! One of the better burgers we have had lately and though the pickles gave a little too much vinegar edge it was fabulous, great meat patty, lots of lovely melted cheese and good condiments ratio! We loved it, infact I was sad to had over the other half in this crazy share option I'd signed up to…. But there was no pizza if we didn't.
Service was nice, the intial service at the bar was a bit grumpy but the guys looking after us later were lovely and it was a really nice way to spend a Sunday afternoon.