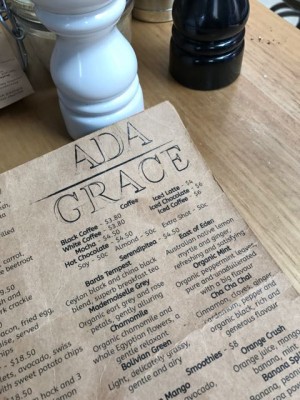 Ada Grace, hidden off busy Coventry Street in South Melbourne and home to some very good breakfasts, in size, taste and value!! The coffee is great, the ceiling is beautiful and the menu is packed with tempting treats that can range from granola, paleo pumpkin and spinach loaf, and eggs benedict to buttermilk white chocolate pancakes and immense corn fritters.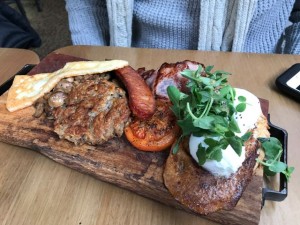 Hubby went for the Big Breakfast Board a steal at $20.50 with organic sourdough toast, 2 eggs, smoked bacon, chorizo, roast tomato, mushroom, sweet potato rosti and saganaki….. it barely fits on the board!! Eggs were suitably oozey, bacon smokey and lovely and crisp, saganaki always and the sausage was good. No chance of finishing it all but still was a perfect start to the weekend.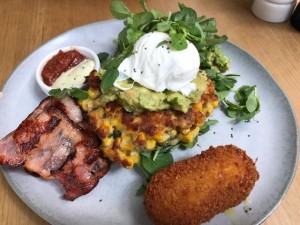 My Corn Fritters with smoked bacon, fresh avocado, 2 poached eggs and a cheeky extra croquette was divine, a very generous portion and well those eggs………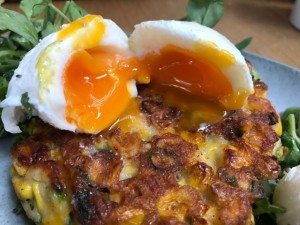 Sooooo good!! The fritters were fab, I definitely didn't need the extra croquette but it was crispy and creamy!
The toilets are not the best, a larger person has no chance to fit and it's a strange little addition in the back yard with a folding door that doesn't close well.
Apart from that it's a great spot for a hearty breakie and a warm smile.
Visit Ada Grace for more here