We love Miss Jackson, just off the hustle of Grey Street, it offers a top spot for a great bite to eat. We scored a table for four on a busy Saturday, there is way too much to choose from with the menu and a whole sheet of specials….. what a tough live we live!!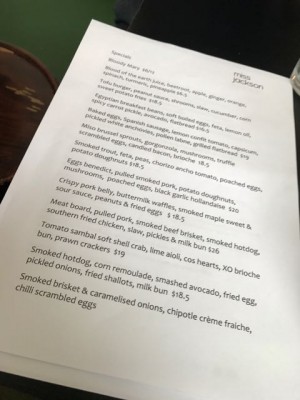 How to choose? Crispy Pork Belly? Eggs Bene? Miso Brussel Sprouts, Baked Eggs, Smoked Hotdog…. damn it sounds so good!!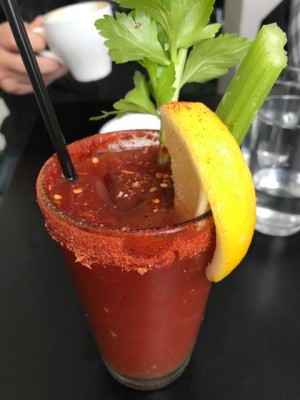 Well a Bloody Mary will help whilst we peruse! I'm not usually a Bloody Mary girl but this was fantastic, I thought it might be good to my cold!! It was super yummy, good spice but not too much – Winner!!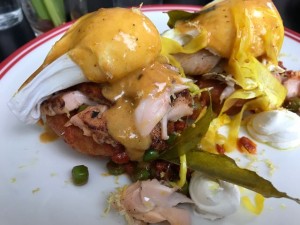 So glad I went for the Smoked Trout with feta, peas and chorizo ancho tomatoes, perfectly poached eggs and potato doughnuts – sensational!!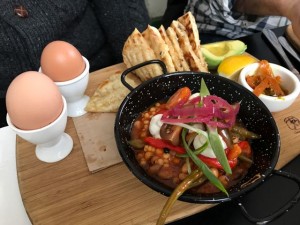 Hubby went for the Egyptian breakfast beans, soft boiled eggs, avocado, carrot pickle and flatbread – he was a VERY happy chappy!!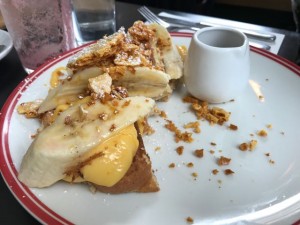 Banana waffles looked super yum!!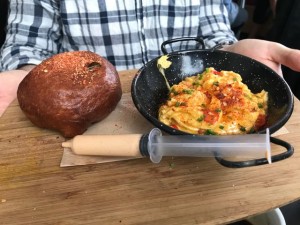 And the brisket stuffed potato doughnut with injectable sauce and eggs on the side was the most hipster dish of the day and looked bloody good when that doughnut was broken in two and the filling revealed!
It's always a great place, happy staff, happy customers and plenty of choice for all palates.